Sir Patrick Moore: Your memories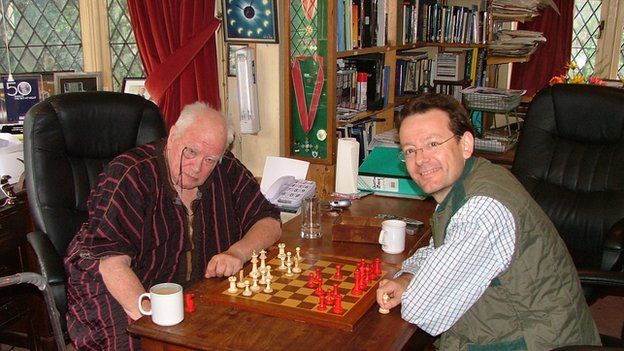 British astronomer and broadcaster Sir Patrick Moore has died, aged 89.
Sir Patrick presented the BBC programme The Sky At Night for more than 40 years, making him the longest-running host of the same television show ever.
He wrote dozens of books on astronomy and his research was used by the US and the Russians in their space programmes.
Here BBC News website readers describe their memories of Sir Patrick.
I met him on 28 October in 1999 at the Victoria Theatre in Halifax and I'll never forget it.
I had grown up watching his programme for the best part of 35 years.
I went to see a lecture he was giving as part of a tour he was on.
He was talking about the moon and general space exploration. It was fascinating.
I remember that one of the lights kept irritating him so he asked for it to be turned off. The only problem was that no one could then see him.
He asked if anyone had any questions at the end. I knew he was a bit of a curry fanatic and thought this was my one chance to ask what his favourite type was.
Well - that brought the Q&A session to an abrupt end as he said he wasn't going to answer that. Oops.
But he was friendly enough when I went up to him later to ask if he would sign my book. The only thing is I hadn't bought the book he was publicising but an old one.
He didn't sign the front of my book but page 123 - I don't think he was too impressed.
But he will be sorely missed.
He came to Armagh on a visit about 1964.
Our school was fundraising because we'd had a disastrous fire and a few of us hit on the idea to get some autographs of famous people to raffle.
Three of us went up to the Observatory to get Sir Patrick Moore's autograph as we knew him from television.
He bounded down the steps, bear-like, hand out and said: "Would you like to shake hands with a man who shook hands with The Beatles?"
Well, we vowed we would never wash our hands again!
I must say, he was extremely approachable, very pleasant and unassuming - a lovely man altogether.
His passion for astronomy was inspirational and those eyebrows had a life of their own.
Brian Spurle, near Larne, County Antrim
When I was at college in Crawley in the late 1970s, I used to thumb lifts back to my home in East Grinstead.
One particular evening I'd very nearly given up as I'd almost made it to the bus stop on the way out of town, when an old green Humber Saloon pulled over and the driver offered me a lift.
There was already a passenger in the car on the back seat and the driver had to clear numerous items of equipment and rolls of paper from the front seat to let me in.
He immediately apologised and explained he needed to stop at the next garage for petrol but I clearly could not object.
During the fuel stop the other passenger advised me that it was Sir Patrick Moore who had stopped to collect me!
He'd also offered a lift to the back seat passenger, another hitch hiker, who had been collected in Guildford.
He was on his way to Tunbridge Wells to deliver a lecture. When he got back into the car I was able to engage him in conversation as, by coincidence, he had been in the same RAF squadron as my Uncle Geoff, my mother's brother, during World War II
He remembered both my uncle and my mum but unfortunately couldn't spare any time after dropping me right to my door to speak to her as he was worried he would have been late for his lecture.
A great memory of an inspiring individual and a gentleman. I still keep the signed business card he gave me that evening to remind me of this unlikely meeting.
Tom Hewitt, Sarnau, Ceredigion
Having been born at the tail end of 1956, myself and The Sky at Night are roughly contemporaneous.
In 1972, I was living in London and my family and I were planning to go down to Selsey in August that year.
I was interested in astronomy and was able to get Sir Patrick's home address from somebody, so thought I'd at least write to him to see if it would be possible to visit him.
He sent me a postcard in July and the staccato style of his reply was typical of his delivery.
In the event I spent two evenings at his house that August observing the night sky through his 12in refracting telescope, drinking tea from a mug he had just been given by Buzz Aldrin and chasing around the garden trying to entice his mother's cat back indoors.
She was alive back then and I remember her constantly shouting out to him, asking if he had fed the cat.
The postcard is one of my treasured possessions and I've kept it tucked inside an astronomy year book he gave me.
That generosity of spirit and time was typical of him. He was irreplaceable.
Philip Coombes, Lichfield
After years of reading his books as a child I finally met Sir Patrick in 1971.
I joined the British Astronomical Society and, shortly after received a personal letter from him telling me to come over and say hello when I went to a talk there.
When I approached him he knew exactly who I was.
He gave me his address and I wrote him a couple of letters asking questions about astronomy. I later received a signed copy of his book The Sun with his reply.
What struck me was how much he was prepared to help a 14-year-old, and that he told me things in a language I could understand at that time.
Thanks for a wonderful education and though I was never good enough to be a professional, I've enjoyed being a "fan" ever since.
I remember Sir Patrick Moore coming to give away the sports day prizes at my tiny rural junior school near Tunbridge Wells in Kent. With his shock of black hair and daft story about trying to fry a jelly when his housekeeper was away, he was the quintessential mad professor. We laughed ourselves silly. I read all his Red Planet books - great adventure stories. Jane Henderson, Bath, Somerset
I remember Sir Patrick Moore spoke at Dundee University in the early 1970s - the biggest lecture theatre was full to overflowing and he enthralled us for over two hours without a note in his hand - right in the middle of degree exams! An inspiring writer and broadcaster, he gave me an interest in the night sky that has never left me. Thank you, Sir Patrick. Sandy Benzies, Edinburgh, Scotland
I wrote to Sir Patrick several times as a boy keenly interested in astronomy. He must have had a huge postbag but on each occasion I received a helpful and encouraging reply, typed on his famous old typewriter. A large number of people look up at the night sky and ponder things beyond our small planet, because of him. Ian Braithwaite, St Albans, Hertfordshire
I remember about 11years ago a friend of mine won David Beckham's football boots in a competition and decided to auction them, with the intention of buying a top-of-the-line telescope. Not long afterwards, Sir Patrick Moore called him to give him advice on telescopes and such, and despite being football fans, we thought getting a phone call from Patrick Moore was so much cooler than David Beckham... we were never particularly cool at school! Oliver, Swindon
My wife and I met Sir Patrick on occasions many years ago. He was always a kind and responsive person who would go to any length to answer questions about astronomy - and cricket! He loved his cats and his many mementoes of an amazing career. He will indeed be sadly missed by millions around the world whom he inspired to take an interest in astronomy. Tony Ireland, Cheltenham