Kate nurse Jacintha Saldanha death fallout in papers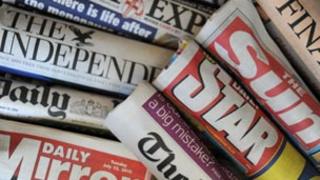 The continuing fallout from the hoax call to the hospital which was treating the Duchess of Cambridge is reported in a number of Monday's newspapers.
Daily Mail columnist Bel Mooney writes that Jacintha Saldanha was a "victim of today's culture of casual cruelty".
It also writes that one of the DJs who carried out the hoax is so upset she is close to a breakdown.
Meanwhile, the Sun warns that "the last thing we want is yet another witch hunt".
The Independent reports on a study that warns pressure on the world's resources is becoming so great that it could trigger a sharp increase in hunger and warfare in the next 20 years.
The report argues that "shocks reverberate across supply chains".
Environment Secretary Owen Paterson is calling for genetically modified food to be widely grown and sold in Britain, according to the Daily Telegraph.
He tells the paper GM crops have "real environmental benefits".
"Diabetes crisis to cripple NHS", warns the front page of the Daily Express.
The world's biggest audit of the disease suggests sufferers are almost 50% more likely to have a heart attack than the general public, it reports.
British Airways chief Willie Walsh has accused the government of failing to set out an economic growth strategy, the Times reports.
He suggests that if Chancellor George Osborne was running a business, it would be destined to make big losses.
Under the headline "King Arthur", the Daily Mirror reports on the X Factor final, which was won by James Arthur.
The paper says the singer has said he will not be unduly influenced by record executives and intends to "defy Simon Cowell to play his music his way".
And the Independent reports from New York on the demise of the Lenox Lounge, a much-beloved art deco bar in Harlem which is set to close on New Year's Eve because the rent of $20,000 (£13,000) a month proved to be too much.
Opened in 1939, it had played host to an array of jazz greats over the years, including Miles Davis, Billie Holliday and John Coltrane.