Homeland writer campaigns for pigs shot for military surgeons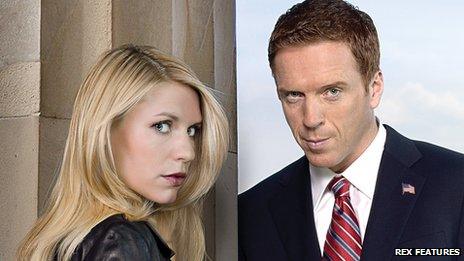 The man behind Channel 4's imported US series Homeland has asked Defence Secretary Philip Hammond to stop the shooting of live pigs for the medical training of military surgeons.
Writer and producer Gideon Raff said he is "troubled that this violence still goes on when more humane and effective" training methods are available.
He has joined a campaign by animal rights group Peta to end the practice.
The Ministry of Defence said the training gave "invaluable experience".
The training sees pigs shot with high-powered rifles and then have their wounds operated on by military surgeons at a course provided in Nato facilities in Jaegerspris, Denmark.
The animals are heavily anaesthetised both before being shot and throughout the subsequent operations. Veterinary staff are also on hand at all times.
The MoD says the animals are later killed humanely and, while it would not be illegal to carry out similar training in the UK, the Home Office would have to give its approval on a case-by-case basis.
Peta has previously called for an end to the "barbaric" exercise, saying surgeons could use human simulators. It could not be justified "medically, ethically and educationally", it said.
Mr Raff, a former Israeli Defense Forces (IDF) paratrooper, created an Israeli television series called Hatufim - known as Prisoners of War in English.
This was later picked up by American television and inspired the Homeland series, for which Mr Raff is also an executive producer and writer.
Homeland, broadcast in the UK on Channel 4, tells the story of an American soldier, Sergeant Nick Brody, played by Briton Damian Lewis, who returns home after being held captive in Iraq and is suspected of being a terrorist.
The series won the Golden Globe for Best TV Drama Series and the Emmy award for Outstanding Drama Series earlier this year. Mr Raff also won an Emmy for Outstanding Writing while Lewis received one for his acting role.
Mr Raff has now emailed the defence secretary, asking him to stop the pigs being shot, saying: "Caring for the wellbeing of animals and preparing the troops serving our countries are not mutually exclusive.
"In this case, sparing animals pain and death in training drills means that military personnel receive better medical training and ultimately better care if they are wounded on the battlefield."
Mr Raff also supported Peta's call for the use of lifelike dolls that simulate breathing and bleeding.
He said: "Recent research by trauma surgeons with the IDF Medical Corps found that military staff's confidence in performing lifesaving battlefield medical procedures increased when they were trained with sophisticated human simulators and after having experience with real patients - but not after completing crude animal laboratories.
"The UK Ministry of Defence is not saving lives by having military doctors sew up live animals whose bodies have been torn apart by bullets from high-powered rifles.
"I am troubled that this violence still goes on when more humane and effective ways of training medics and doctors are available, so I have joined Peta's campaign to end this cruel practice."
The UK government suspended the training courses in the summer of 1998 after they were brought to the attention of ministers who said they had not been aware of them.
But the courses were reinstated after a government-commissioned study found that "no equally effective alternative" could be identified and that it was "entirely appropriate and, indeed, necessary" for military surgeons to go through the training.
An MoD spokesman said: "This training provides invaluable experience, exposing our surgical teams to the specific challenges posed by the injuries of modern armed conflict.
"This training has helped save lives on operations and by participating in the Danish exercises we minimise the overall number of animals used."
Related Internet Links
The BBC is not responsible for the content of external sites.