Newspaper review: Papers ponder Cameron debate stance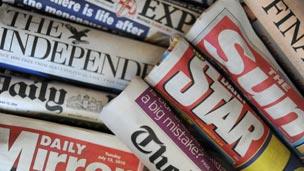 According to the Daily Mail, the party leaders' TV debates that dominated the last general election may not be repeated after David Cameron said they had "sucked the life" out of the campaign.
The paper says it is obvious the ground is being prepared for the prime minister to try to extricate himself from the format.
"Mr Cameron is making a big mistake," the paper says, "if he thinks the genie can be put back in the bottle."
The debates "galvanised the campaign", says the Telegraph - Mr Cameron "performed a service to democracy by pressing for them" and "he can't wriggle out of them now".
The Daily Mirror is not too impressed with the Australian radio presenters who said they were heartbroken that their royal prank phone call had been followed by the death of the nurse who picked up the phone.
"DJs' tears won't wash" is the title of an editorial.
The British public will have mixed emotions, the Mirror says.
Some will feel sorry for them - others will wonder how much the duo weep for their careers as well as the deceased nurse, the paper says.
"In so brazenly playing to the home gallery," it says, "David Cameron only perpetuated the UK's image as peevish and semi-detached."
In awarding the 2012 prize to the EU, the Nobel committee turned itself into a laughing stock, it says.
It is Nato, says the Express, that has kept the peace, the EU has put it in danger - and no amount of preening by fat-cat Eurocrats can disguise it.
Researchers from Edinburgh University say they are trying to work out why - but it is "at least partly to do with the genes".
The paper says the figures also lend weight to the theory that the high prevalence of MS in northern climes is linked to an absence of strong sunlight, which is needed to make vitamin D in the body.
Finally, according to the Sun, Jaguar has pulled the plug on a £1m sports car - because of the recession.
The company apparently had 100 potential buyers for its 200mph CX75 hybrid, which was jointly developed with the Williams Formula One racing team.
A spokesman is quoted as saying "everyone was in love with the car" and the decision was "very hard".
But "we don't think it is the right thing to do in the current economic climate, to build a £1m supercar".
Related Internet Links
The BBC is not responsible for the content of external sites.