PCC replacement to be set up in early 2013 - Lord Hunt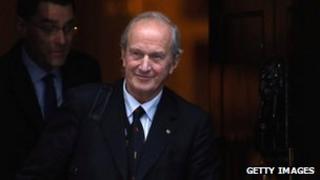 Lord Hunt, the chairman of the Press Complaints Commission, has said he believes a replacement industry-backed regulator will be set up in early 2013.
He said he hoped to announce the members of a transition board to oversee the new regulator on Friday.
Lord Hunt was being questioned by MPs on the Commons media select committee in its first hearing since the Leveson report into press ethics was published.
The report called for a new independent watchdog underpinned by legislation.
Alan Rusbridger, the editor-in-chief of Guardian Newspapers, also gave evidence to the committee.
Earlier, Lord Hunt told MPs he was organising a transition board "dominated by independent appointments" to ensure the new body was "Leveson-compliant".
'Overriding scepticism'
Addressing MPs on the Culture, Media and Sport committee, he said he was also setting up an "implementation group" including editors and publishers and holding discussions with lawyers in a bid to make progress.
But he admitted there was "a sense of overriding scepticism on behalf of the victims" of phone hacking that the newspaper industry would voluntarily sign up to a new regulator.
Asked about the timescale for the new body, Lord Hunt said: "I believe we should be able to move to endorse and accept and implement Leveson's proposals in the early part of next year."
He said he would expect the new form of self-regulation to have an early "opportunity to prove its independence" and prove a body underpinned by statute was not needed.
"This body, I hope, will be created, will be tested pretty swiftly in its existence, and it will be for others to judge," he said.
Lord Hunt told MPs he wanted to see five-year rolling contracts binding publishers to fund the new regulator and to accept its judgements.
He suggested he would not seek to chair the new body, adding his law firm expected him to "come back and do an honest day's work".
'Whistle-blowing hotline'
Lord Hunt told the committee he wanted the new body to be able to "dictate the prominence" of apologies printed in newspapers and said he supported the idea of a whistle-blowing hotline and a conscience clause in journalists' contracts.
He said it would be possible for people to operate outside the code but said he would not have done his job if "a substantial publisher" failed to sign up.
He told MPs he had not persuaded the satirical magazine Private Eye to sign up but said: "Perhaps its whole ethos is never to sign up."
Lord Hunt also told MPs some people in the current PCC felt it had "been unfairly criticised" and one "independent lay member" had accused him of "seeking to destroy" the organisation.
Asked if there had been complaints that the nurse found dead after the Royal radio hoax - Jacintha Saldanha - had been hounded by the press, he said he did not think so but he would check.
Culture Secretary Maria Miller, her Labour shadow Harriet Harman and the Liberal Democrats will meet on Thursday to discuss a government draft bill to implement Lord Justice Leveson's proposals.
Labour, which supports a new law, has already drawn up its own draft bill. The Conservatives fear a new law could be amended to restrict the freedom of the press, although the prime minister said on Monday that such legislation "won't be the end of the world".
In his evidence, Mr Rusbridger said he had concerns about Labour's plans and that bringing "the judiciary into play... "makes me a bit nervous".
He expressed concern about the practicalities of having to sign up the "totality of the press" and said that putting "Leveson into law" could be the beginning of a "slippery slope".
Mr Rusbridger predicted a three-stream regulatory system - for press, broadcasters and online.
He described the Leveson report as "a good starting point" for a new press regulator but said he had "anxieties" about some of proposals, particularly the suggestion of a role for Ofcom, the broadcasting regulator.
But he said: "I think since the Leveson report there has been a remarkable willingness of editors to get together and take Leveson seriously."
National newspaper editors had agreed to all 40 clauses in the report that did not relate to statute, subject to five being checked by lawyers, he said. This showed there was a "very high degree of consensus around Leveson".