Abu Qatada legal aid at £500,000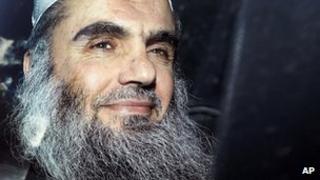 The legal aid bill for radical cleric Abu Qatada - whose deportation to Jordan was blocked last month - stands at £515,778 and is rising.
The figure represents costs up to 5 December but more bills are still to be submitted, Justice Minister Jeremy Wright wrote in a Parliamentary answer.
Labour MP Valerie Vaz said while legal aid for others was being cut, a large sum had been given to a single person.
Ministers have already ordered an inquiry into the legal aid system.
Ms Vaz - who posed the question about Abu Qatada's legal aid bill - said the public could not understand plans to cut Legal Aid "when a large amount of public funds has been given to one person's case".
She added: "With cuts to legal aid and the Criminal Injuries Compensation Scheme, it is vital to monitor how public money is being spent and this information should be in the public domain."
A fortnight ago, Home Secretary Theresa May won permission to appeal against a decision by the Special Immigration Appeals Commission (Siac) to block terror suspect Abu Qatada's deportation.
He faces a re-trial in Jordan for allegedly conspiring to cause explosions targeting Western and Israeli targets before the year 2000. He was found guilty of terrorism offences in his absence.
Justice Minister Mr Wright wrote that legal aid payments for Mr Qatada's case had been paid by the Legal Services Commission (LSC).
"The LSC have not received final claims from Abu Qatada's solicitors, but have confirmed that they had provided £515,778 in legal aid funding to Abu Qatada as of December 5," he added.
'Immediate examination'
Last month, a senior judge ruled Jordan had not proved that the retrial of Abu Qatada - who is currently living under strict bail conditions in London - would be free of evidence obtained by torture.
No date has been set for the Court of Appeal hearing, during which Home Office lawyers are expected to argue Siac wrongly interpreted the law relating to the preacher's right to a fair trial.
Last month, Justice Secretary Chris Grayling ordered an "immediate examination" of the legal aid system after it emerged after the legal case relating to another terror suspect, Abu Hamza al-Masri, cost nearly £1m.
Abu Hamza denies terror charges in New York after his extradition from the UK - which followed a failed appeal against the move in October.
Mr Grayling said: "The total costs in some cases seem very high and many - myself included - will question whether they provide value for money."
He said he was "concerned about public confidence in the legal aid system" and had therefore ordered "an immediate examination of aspects of the system that affect its credibility with the public".
The Legal Action Group, a charity that works with lawyers and advisers to promote access to justice, defended legal aid as "an important part of the justice system" adding: "everybody should have the right to access to justice - it is these values that underpin this country".