Jimmy Savile sought Margaret Thatcher Stoke Mandeville help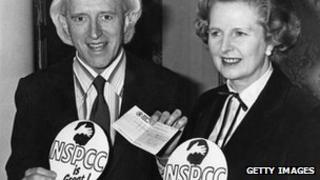 Jimmy Savile met Margaret Thatcher several times to get support for his Stoke Mandeville Hospital appeal, newly released government papers show.
In letters they exchanged, released by the National Archives, Savile tells Mrs Thatcher that the patients at the hospital love her - and he does too.
The government eventually gave £500,000 to the Buckinghamshire hospital.
The papers also show Savile approached Mrs Thatcher about tax relief on charitable donations.
The now-disgraced TV and radio presenter, who died last year aged 84, approached Mrs Thatcher at a Downing Street event on 6 February 1980, while he was heading the £10m Stoke Mandeville appeal.
At the Number 10 meeting - a presentation ceremony for the children's charity the NSPCC - Savile asked the then-prime minister how he might "pursue the question of tax deduction for charitable donations", the papers show.
The charitable covenant rules at the time meant a donor would have to commit to give to a charity for seven years for their donations to be eligible for tax relief.
The documents show Mrs Thatcher thought the so-called "seven-year rule" was a disincentive to charitable giving, "and that three years might be a more reasonable period".
In a letter to the prime minister a week later, Savile says he waited before thanking her for the "lunch invitation" because he did not want to be "too effusive".
He goes on: "My girl patients pretended to be madly jealous and wanted to know what you wore and what you ate.
"All the paralysed lads called me 'Sir James' all week."
Correspondence between Number 10 and government departments including the Treasury show that changes to the rules on charitable donations were already being considered.
According to a letter from the private secretary at the Treasury to Number 10 dated 21 February 1980, the time period for charitable covenants was to be relaxed from seven years to four - and the measure would be announced in that year's Budget.
Inland Revenue
However, Mrs Thatcher was advised that as this was a "Budget secret", she could not "even hint at this to Jimmy Savile at present".
In a letter to Savile, dated 25 February 1980 and addressed "Dear Jimmy", Mrs Thatcher said: "I am interested in the subject myself and I am now looking into it.
"Please leave it with me and I will write to you about it again within a few weeks. It is quite a complicated subject and I am sorry that I cannot give you any instant answer."
Further correspondence between the Inland Revenue and Number 10 includes a suggested letter Mrs Thatcher should write to Savile after the changes to charitable covenants were announced by the then-Chancellor Geoffrey Howe in his April 1980 Budget.
While the Inland Revenue draft states the changes to tax relief had been examined "a little time ago", this is not mentioned in Mrs Thatcher's actual letter to Savile.
Other related documents also released by the National Archives show that at a private meeting with Mrs Thatcher in January 1981, Savile raised the possibility of "some government support" as a "goodwill gesture" for the Stoke Mandeville spinal injuries unit appeal.
While Savile was said to be more concerned "with the token of a contribution than the amount", documents show the then-Department for Health and Social Security was initially reluctant to commit NHS money to the appeal, preferring a "symbolic gesture".
The records show Mrs Thatcher and Savile then met for a private lunch on 8 March 1981 and, in a handwritten note to her private secretary at the time, she says she "promised to get government contribution" - although she declined to appear on Jim'll Fix It, Savile's top-rating Saturday evening children's programme on BBC One.
Asked by her officials what "sum of money you envisaged", in a handwritten note Mrs Thatcher says "will discuss with PJ" - meaning Patrick Jenkin, then health and social security secretary.
Jenkin was replaced as health secretary in the 1981 reshuffle by Norman Fowler. A note dated 30 December 1981, some 11 months after the initial approach from Savile, states: "Mr Fowler has agreed to make available half a million to £1m for the Stoke Mandeville Appeal and he agrees you [Mrs Thatcher] should announce this tomorrow."
According to the documents, the government decided to make the money available as the International Year of Disabled People was drawing to a close and "to show our interested in the disabled has not ended with the end of IYDP".
However, Mr Fowler decided that the government would contribute £500,000 as he wanted to donate a similar amount "to other worthy causes" in the coming months.
The letters released under the 30-year rule date back to a time when Savile was best known for being a TV personality and charity fundraiser, whose efforts were rewarded with a knighthood in 1990.
However, it has since been alleged that Savile sexually abused hundreds of girls and young women. An investigation by the Metropolitan Police has said that 450 people have said they were abused by Savile.