Margaret Thatcher paid for missing son desert search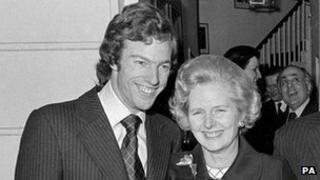 Margaret Thatcher insisted on spending almost £2,000 on a desert search to find her missing son, rather than using public cash, newly-released files show.
Mark Thatcher went missing in the Sahara for six days in January 1982, after breaking down with two team-mates during the Paris-Dakar rally.
They were found by the Algerian military following a search involving four countries, planes and helicopters.
Mark's father, Denis Thatcher, flew to Algeria to help with the operation.
The documents - released for the first time to the National Archives in Kew, west London - reveal how the former prime minister paid £1,784.80 towards the search in order to avoid a public backlash over the use of taxpayers' money.
Her 29-year-old son spent six days lost with his French co-driver, Anne-Charlotte Verney, and their mechanic - known only as Jackie.
They were eventually spotted from the air and rescued by an Algerian military aircraft on 14 January. The trio were running short of food, but still had plenty of drinking water.
'Drinks to all'
But amid the relief, Mr Thatcher's rescue prompted private discussions between Number 10 and the Foreign and Commonwealth Office about whether the cost of the search should be covered by the public purse - a matter MPs and journalists were keen to pursue.
According to the archives, a letter calling for details of the figures was sent to the Foreign Office on 29 January so questions could be answered. Lists of hotel and phone bills, telegrams, air fares and subsistence expenses were promptly drawn up.
The files show one bill from the Tahat Hotel in Tamanrasset - for a group including Mark and Denis Thatcher and Ms Verney - exceeded 11,500 Algerian dinars, a third of which was made up by the cost of drinks.
However, the party was later told the bill had been waived and there was nothing to pay.
In a telegram to the Foreign Office, one official reported this fee had almost certainly included "the liberal dispensation of drinks to all and sundry after Mark Thatcher's arrival at hotel".
An Foreign Office statement detailing the total cost of the search includes air fares, subsistence, telegrams and phone calls at various embassies, and accommodation for a Swiss rally team that helped by providing information on Mr Thatcher's possible location.
The Algerian government picked up the majority of the bill, leaving a final bill of £583.14 for Mr Thatcher and £1,190.95 remaining to be paid with public money.
Private secretary John Coles said there had been a "number of inquiries from the public and one or two from MPs" over the cost, but said that Mr Thatcher's contribution of £583.14 would mean these questions could be dealt with in an "entirely reasonable and justifiable way".
However, a prime ministerial memo on 12 February reveals Mrs Thatcher decided to cover the extra cost herself.
Mr Coles wrote: "In addition, there is the total cost to the taxpayer of £1,191. I think you wanted to consider the latter figure."
In a handwritten note, Mrs Thatcher insisted: "I must pay the £1,191. We can therefore say that no extra cost has fallen on the British taxpayer. To who do I make out the cheque? MT."
Mrs Thatcher later paid a final bill for £1,784.80 - after the totals were slightly amended.
'Most concerned'
The documents show that, several months later on 2 September, Mrs Thatcher received a letter asking for a further £15.16 for the landing charges of an aircraft used by her husband Denis Thatcher - which she paid by cheque to the FCO four days later.
The letter to Mr Coles read: "In the light of the prime minister's wish that no charge should be made to public funds, we assume that she would wish to meet this bill herself."
The archives also detail the "Iron Lady's" fear for her missing son.
In a telegram dated 12 January, Foreign Secretary Lord Carrington wrote: "The prime minister is now most concerned, since there has been no reliable information for three days."
Mrs Thatcher also spoke to then US president, Ronald Reagan, on 14 January - within minutes of a sighting of her son.
According to the files, Mr Reagan told her: "I was calling you to tell you that Nancy and I feel so deeply - you are in our thoughts and prayers, you and Denis - about Mark."
The prime minister responded: "It's been a long time, and we've had a lot of confused rumours and reports but Denis is out there now, and the Algerians have mounted a very big search today, and we just believe - I've just had news two minutes ago that they believe they've made a hopeful sighting.
"We daren't believe anything till they've actually found him."
Mr Reagan then promised to pray for Mark, saying: "I know that he's an experienced outdoorsman, so I know that he'll be able to take care of himself."