Chagos Islanders lose court bid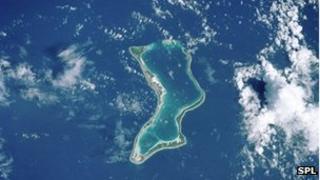 Former residents of the Chagos Islands, a British territory in the Indian Ocean, have failed in the latest stage of their legal bid to return.
They were evicted by the UK government from the 1960s to allow the US to build a military base on Diego Garcia, the archipelago's largest island.
The European Court of Human Rights ruled that as they had already been compensated, the case was inadmissible.
The Chagossians said they were "saddened and shocked" by the ruling.
The case concerns complaints made by 1,786 Chagos Islanders, or their descendants, arising from the evacuation of the British Indian Ocean Territory between 1967 and 1973.
The Chagossians took their case to Strasbourg after a long-running legal battle in the UK which ended in 2008, when the Law Lords ruled in favour of the government by a majority of 3-2.
'Definitive' compensation
In its final decision, issued on Thursday, the ECHR said: "The court notably found that the heart of the applicants' claims under the European Convention on Human Rights was the callous and shameful treatment which they or their antecedents had suffered during their removal from the Chagos islands."
However, because the claims had been settled "definitively" in domestic courts, the applicants had "effectively renounced bringing any further claims to determine whether the expulsion and exclusion from their homes had been unlawful and breached their rights".
The first legal proceedings by the Chagossians were settled in 1982 when the UK government agreed to pay £4m and provide land worth £1m.
Chagossians and their supporters said they were saddened by the latest court decision.
A spokesman for the islanders said: "We appeal to the coalition government to stand by their pre-election promises to bring about a just and fair settlement to one of the great tragedies of the 20th Century, perpetrated by the UK on the defenceless - the brutal removal of an entire people from their homeland and their way of life, into a life of exile, poverty and hardship."
One supporting body, the Minority Rights Group International, reiterated its call for the UK government to recognise the Chagos islanders' "fundamental right to go home".
"Having expelled a whole people from their homes, the United Kingdom government is now washing its hands of all responsibility," says MRG executive director Mark Lattimer.
However, Foreign Secretary William Hague welcomed the ruling, which signals the end of a long legal process.
"We have made clear our regret for the wrongs done to the Chagossian people over 40 years ago. Nevertheless, it was right for the government to defend itself against this action.
He added that the government would now re-examine its policy of the resettlement of the British Indian Ocean Territory (BIOT), as previously promised.
"There are fundamental difficulties with resettlement in BIOT, but we will be as positive as possible in our engagement with Chagossian groups and all interested parties."