Jimmy Savile producer Ted Beston denies abuse claims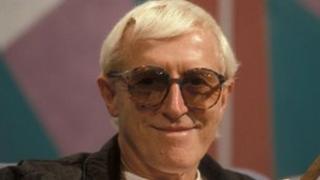 A former BBC radio producer arrested by police investigating sex abuse claims against Jimmy Savile and others "vehemently denies" the allegations made against him, his lawyers say.
Ted Beston, 76, from Bromley in south east London, was held on Wednesday by detectives from Operation Yewtree.
He was questioned at a police station on suspicion of sexual offences before being released on bail until February.
Mr Beston worked with the late presenter on his Radio 1 shows.
He is being investigated under the strand of the Operation Yewtree investigation termed "Savile and others" - meaning that the allegations are linked to Jimmy Savile.
Eighth arrest
A statement, released by Ewings and Co Solicitors said "Ted Beston, the former Radio 1 producer, was arrested by officers from Operation Yewtree. Mr Beston was not charged."
It added: "When the Savile story surfaced in October, Mr Beston made clear then that he was shocked by the allegations...
"For the time being, Mr Beston will be saying nothing further and we request... [he] be allowed to deal with these false claims without undue intrusion."
Mr Beston is the eighth person to be questioned as part of the police operation. Seven have been arrested and one suspect was interviewed under caution.
Savile, who died last year aged 84, was a Radio 1 DJ and the presenter of the Jim'll Fix It show on BBC One. The police say 450 victims have alleged abuse by Savile alone.
The BBC set up two inquiries as a result of the abuse claims and a further review into the corporation's current sexual harassment policies.
A report into the circumstances surrounding the dropping of a Newsnight investigation into Savile was published on Wednesday and said the decision was "flawed" and plunged the corporation into "chaos and confusion".
Other inquiries being carried out into the Savile affair include the director of public prosecutions' review into the decision not to prosecute the presenter in 2009.