Prince Charles calls for more compassion in NHS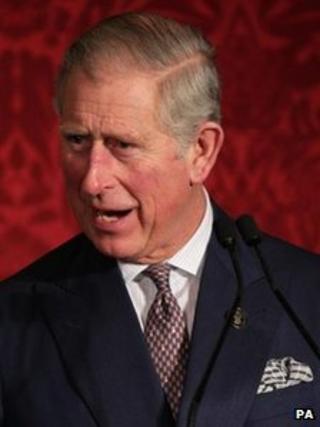 The Prince of Wales has called for a national health service with more compassion.
Writing in the Journal of the Royal Society of Medicine, Prince Charles called for a service that accounts for "the core human elements of mind, body and spirit" as well as disease.
He urged medical professionals to develop a "healing empathy" to help patients find their own path to health.
The Patients Association said "compassion" was "lacking" in the NHS.
'Holistic approach'
In his article, Prince Charles set out his vision of a health service with a wider perspective - one that acknowledges "physical and social environment, education, agriculture and architecture".
He said those in the industry must "listen and honour what is being said and not said by patients," adding that symptoms "may often be a metaphor for underlying disease and unhappiness".
A scientific and therapeutic approach that "understands, values and uses patient perspective and belief rather than seeking to exclude them" would allow patients to discover better health.
However, he emphasised he did not wish to confront accepted medical wisdom.
The prince's article - which draws on the work of several of his charities based in the Lancashire town of Burnley - said inequalities in the area had led to a reduction in life expectancy to one of the worst levels in Britain.
He insisted that a focus on improving the built and natural environment - including work on education, business and the arts - would lead to improvements "not only in health, but also in the overall cost-efficiency and effectiveness of local services".
By encouraging clinicians to emphasise "the value of caring, continuing relationships and for society to adopt a more holistic approach to health and disease that maximises the potential of the physical and social environment so that healing and better health can thrive," he wrote.
Speaking to BBC News, Dr Mike Smith, vice chairman of the Patients Association, said he thought the prince was right.
"The chief nursing officer of the Department of Health only recently has set out her six Cs, one of which is compassion care," he said.
"So the pair of them are singing from the same hymn sheet. And that's what we've seen lacking over the last half dozen years, when increasingly the care element of the NHS has been not up to its previous standard."
'Vision for health'
The journal's editor, Dr Kamran Abbasi, welcomed the article, describing Prince Charles as "a prominent and influential voice".
"When he sets out his vision for health, something he clearly thinks deeply about, speaking directly to medical professionals is the best way of allowing a constructive debate to flourish," he said.
"This is an important article and the prince's vision for health is engaging."
A Department of Health spokeswoman agreed that "wider determinants of health - such as housing and environment - are very important to our wellbeing", underlining government plans to start "putting local councils in charge of improving the public's health".
"They will have the power and the budget to tackle the causes of poor health in their areas. This should help to reduce health inequalities and mean that everyone has the same opportunity to lead a healthy life."
She added: "Ensuring that patients get the best possible care is a priority... Nursing leaders recently launched a new drive to ensure values such as compassion and courage are at the heart of the NHS and the public health and care sectors."