Councils 'slash homebuilding plans'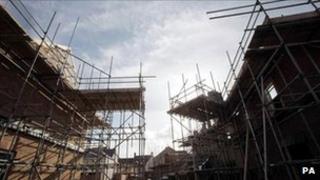 Housebuilding in England is set to fall to its lowest level since the 1920s, the Policy Exchange think tank says.
It suggests councils in England have cut homebuilding targets by more than 270,000 since regional planning frameworks were abolished in 2010.
Abolishing the targets imposed on all areas outside London handed local authorities more power over planning.
The government said those targets "didn't work" and its changes were simplifying the planning system.
Regional Spatial Strategies, which were introduced in 2004, set specific building targets and governed the release of land for that purpose.
But the coalition government abolished them two years ago, believing these "top-down targets" were ineffective and unpopular.
Although those targets were rarely met, Policy Exchange says councils have used their new control over planning to drastically cut their own homebuilding targets.
Research found the biggest reductions in areas with the biggest housing shortages - a 108,380 cut in the South West, and of 57,049 in the South East.
"Relying on councils to expand housing targets was a mistake," said report author Alex Morton.
"However, now the coalition should focus on fixing the multiple failures with the housing market - not fighting councils. This can help us begin to build the homes we need."
A spokesman for the Department for Communities and Local Government (DCLG) said: "The analysis in this Policy Exchange report is completely wrong. Top-down regional targets didn't work and built nothing but resentment.
"It is meaningless to point to targets which were never going to be built. It was under Regional Strategies that housebuilding fell to its lowest peacetime rates since the 1920s."
The DCLG said new housing supply had risen by 11% this year to its highest level since 2008.
"As promised in the Coalition Agreement, this government is abolishing the ineffective, unpopular and bureaucratic tier of regional planning," the spokesman said.
"Instead, it is simplifying the planning system and has introduced the New Homes Bonus to work with local communities, not against them."