Kate hoax call DJs 'unlikely to be prosecuted'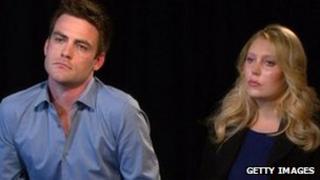 Two Australian DJs behind a prank call to the London hospital treating the Duchess of Cambridge for morning sickness are unlikely to be prosecuted in the UK, Australian police say.
New South Wales Police said UK officers had not requested more information or asked for DJs Mel Greig and Michael Christian to be formally questioned.
Nurse Jacintha Saldanha was found dead three days after taking the call.
UK prosecutors said no decision has been made on whether to charge the DJs.
Scotland Yard said before Christmas that it had submitted a file to the Crown Prosecution Service on 19 December "for them to consider whether any potential offences may have been committed by making the hoax call".
'Passage of time'
A CPS spokesman said on Friday: "It (the file) is still under consideration."
But the deputy police commissioner in Sydney, Nick Kaldas, said he believed the pair, from 2Day FM in Sydney, would probably not be prosecuted because Scotland Yard had not asked for any further information or for the pair to be formally interviewed.
He told the Australian Daily Telegraph he "did not expect there to be any requests".
"There was some initial contact after the death of Jacintha Saldanha but not a lot since and because of the passage of time we believe it is unlikely any charges will be laid."
The prank call also is being investigated by the Australian Communications and Media Authority.
Earlier this month, the pair, posing as the Queen and Prince of Wales, tricked Mrs Saldanha into transferring the call to a colleague at King Edward VII's Hospital who then described Kate's condition in detail.
Three days later, Mrs Saldanha was found hanged in nurses accommodation close to the hospital, after apparently taking her own life.
The management of 2Day have insisted in the past that no laws were broken, although the station could end up in court for broadcasting a secretly recorded private conversation.
The radio station had received two warnings from the watchdog over previous stunts.
The duchess was admitted to hospital on 3 December suffering from hyperemesis gravidarum, acute morning sickness, and spent three nights recovering from the condition.