House purchases by first-time buyers 'up 12%'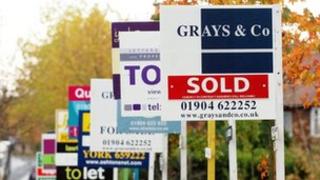 The number of house purchases by first-time buyers rose 12% this year, with about 216,000 people stepping on to the property ladder, the Halifax reports.
Its study says the figure is the highest since 2007, the year before the global economic crisis struck.
The Halifax said the rise was due to more mortgages coming on the market and interest rates being lowered.
The average age of first-time buyers is now 30, up from 29 a year ago, and a 20% deposit is typically required.
A 10% deposit was typical in 2007. The average deposit needed by first-time buyers in the UK in 2012 was £27,984, with the house price averaging £139,921 - up 3% on a year before.
The number of mortgages on the market has increased by about a fifth since August, when the government launched a multibillion-pound scheme to kick-start lending to businesses and households.
It has also recently launched NewBuy, a scheme to help people purchase new-build homes with a fraction of the usual deposit.
But Martin Ellis, housing economist at Halifax, said the number of first-time buyers was still low "by recent historical standards".
In 2006, there were 402,800 first-time buyers.
Mr Ellis said: "The number of first-time buyers has risen to a five-year high, boosted by the improvement in affordability resulting from the reductions in both house prices and mortgage rates in recent years.
"Conditions for potential first-time buyers, however, remain very difficult with problems raising the necessary deposit and concerns over the economic climate continuing to prevent many from entering the market."