British tourist Stephen Ashton shot dead in Thailand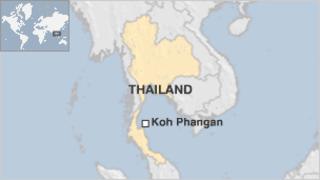 A British tourist has been killed in Thailand on New Year's Eve.
Stephen Ashton was reportedly caught by a stray bullet during a fight between two groups at a bar on Koh Phangan.
According to the Bangkok Post, the 22-year-old was shot in the upper body in the early hours and taken to hospital where he was pronounced dead.
The Foreign Office said it was aware of the death of a British national in Thailand, and was providing consular assistance to the family.
It later confirmed the dead man's name.
Police investigating the incident later arrested a Thai man, according to the Post.
Mr Ashton's neighbour, Dawn Mason, described him as a "normal, likeable young man".
She said his family had moved to Purley, south London, about three years ago and had always been "very nice neighbours".
Mr Ashton's family said they were too distraught to speak to reporters.
A former colleague, Michael Jarman, described the junior stockbroker as energetic, happy and full of life.
"He was a breath of fresh air," he said.
"It's a massive loss, not only for his friends and his family of course, but any job prospects that he may have taken up with us."
Koh Phangan is a resort island neighbouring Koh Samui and it draws thousands of backpackers to its famous full moon parties.