TPim change 'not to blame' for Ibrahim Magag abscond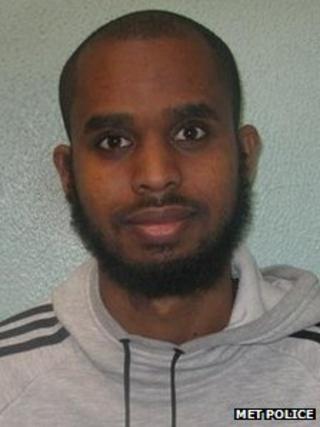 Changes to the way terror suspects are monitored were not to blame for the disappearance of a suspect on Boxing Day, the home secretary has told MPs.
Theresa May was responding to an urgent question from Labour, which asked whether ending forced relocation had allowed Ibrahim Magag to abscond.
Mr Magag, 28, of Somali origin, was last seen in north London.
He is subject to a TPim control measure, which controversially replaced Labour control orders a year ago.
TPims - or Terrorism Prevention and Investigation Measures - restrict the movements of people thought to pose a risk to the public, but who cannot be tried for reasons of national security and who cannot be deported.
Those subject to such orders face restrictions, such as where they stay, who they contact, and where they travel, but differ from control orders in that suspects cannot be forced to relocate to more isolated parts of the UK.
During her urgent Commons question, Labour's Yvette Cooper - the shadow home secretary - asked Mrs May whether in "ditching" relocation she had "personally made it easier" for terror suspects to abscond.
Black cab
She said: "Magag is still missing after 13 days. Clearly the home secretary has no idea where he is.
"You must not ignore the evidence on relocations now. Isn't it time you took some responsibility and sorted this mess out?"
Ms Cooper also asked whether the home secretary could confirm whether Mr Magag had escaped his surveillance team by simply getting into a black cab in London's Triton Street. The home secretary refused to confirm this.
Mrs May said that under Labour's control orders, seven terror suspects had absconded and only one of them had been found.
She insisted the disappearance of Mr Magag did not pose a terror threat, saying: "The government does not believe Magag's disappearance is linked to any current terrorism planning in the UK.
"Nevertheless, we are of course taking this matter very seriously. The police are doing everything in their power to apprehend Magag as quickly as possible."
Mr Magag was reported as missing after he failed to report to his overnight residence on 26 December. He was last seen in Camden at 17:20 GMT the same day.
On 31 December, an anonymity order was lifted, allowing him to be indentified to aid the police search.
Forged passports
Mr Magag had previously been subject to a control order and forced to live in south-west England, but was allowed to return to London under the terms of his TPim.
Keith Vaz, chairman of the Home Affairs Select Committee, told the Commons he understood Mr Magag had forged passports when in Somalia, and asked Mrs May whether Mr Magag was in possession of his passport when he went missing.
The home secretary said she had to consult the details of a previous anonymity order before answering his question.
Ten terror suspects are currently subject to a TPim notice, and the home secretary told the Commons "extra resources" had been given to the security services to ensure other TPims are not breached.