Former BBC director general Alasdair Milne dies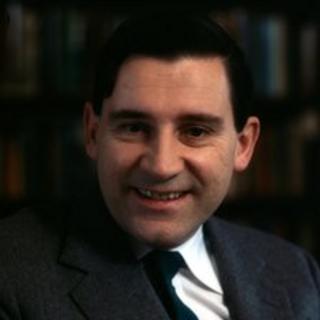 Former BBC director general Alasdair Milne has died at the age of 82.
Mr Milne led the corporation between 1982 and 1987 after a 28 year BBC career as the producer of shows such as Tonight and That Was The Week That Was.
He stood up for the BBC's independence in a series of rows with government but in an unprecedented move was asked to step down by the BBC governors.
Acting director general Tim Davie said he was a "charismatic editorial figure" behind some "outstanding" programmes.
Born in India to Scottish parents, Milne started his career as a trainee in 1954 and after stints as Controller of BBC Scotland and director of programmes, became the first television producer to be appointed director general.
Under his tenure, the BBC broadcast Live Aid and launched its first breakfast television programme.
But Milne came into conflict with Margaret Thatcher's Conservative government over the BBC's coverage of the miners' strike, the Falklands war and the US bombing of Libya.
'Turbulent period'
A row in 1985 over the Real Lives programme in which Sinn Fein politician Martin McGuinness was interviewed helped bring about his departure.
The government called on the BBC not to broadcast the programme. And with Milne on holiday the BBC governors watched it and decided to comply.
In the uproar that followed BBC journalists staged a day-long strike, supported by those at ITN and Independent Radio News, and the programme was eventually shown with only minor amendments.
But when a new BBC chairman, Marmaduke Hussey, was appointed he was reportedly asked to "sort out" the corporation and one of the first things he did was ask Milne to go in January 1987.
Mr Davie said: "Alasdair Milne was a charismatic editorial figure, who served the BBC for 34 years, leaving as his legacy a raft of outstanding programmes, as well as defending fiercely the editorial independence of the BBC during a turbulent political period."