Jailed arms dealer sold guns to police and MoD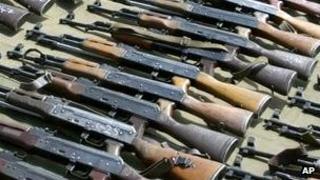 Last month Gary Hyde was jailed for acting as a broker for an illegal gun shipment to Nigeria. But File on 4 has discovered that, although he came under investigation over the deal in 2007, he was able to continue selling weapons and ammunition to police and the MoD.
From an anonymous-looking building on an industrial estate in York, Gary Hyde sold guns to customers across the UK.
He had worked hard to build a reputation as a respected weapons trader but he was not just supplying the domestic market.
In December the 43-year-old was jailed for seven years at Southwark Crown Court for his role in an illegal shipment of weapons to Nigeria.
The consignment, for which he had no licence, was enough to equip a small army. The rounds of ammunition alone would have filled 37 containers.
Elspeth Pringle from the Crown Prosecution Service said: "There were 40,000 AK47 assault rifles, 30,000 further assault rifles, 10,000 9mm pistols and 32 million rounds of ammunition."
The case came after a prolonged investigation into the deal which began back in 2007.
Now File on 4 can reveal that, despite him being the subject of a major criminal investigation in relation to the Nigeria deal, the Ministry of Defence and police in the UK continued to buy weapon parts and ammunition from him at various times between 2007 and 2012.
According to Freedom of Information request responses Greater Manchester, Northumbria, Leicestershire, Dorset and Durham Constabularies, as well as the MoD, bought goods during this period. Items purchased included rifle scopes and baton rounds.
Hugh Griffiths from the Stockholm International Peace Research Institute has been following Hyde's activities for several years.
He said: "It is deeply concerning that an arms dealer under investigation for a number of years was contracted by both the MOD and UK police forces."
Chair of the parliamentary committee on arms export controls Sir John Stanley says the regulatory system for brokers needs to be tightened up.
He said more should be done to create a "proper exchange of information" between all those involved in the regulation of UK-based traders selling weapons domestically and abroad.
Enforcement and licensing for arms traders is complicated and involves a number different authorities including customs, the police and the Home Office.
Gary Hyde was jailed because he did not apply for a broker's licence for the Nigeria deal.
But he did have what is known as a "section 5" certificate, which enables him to store and supply prohibited weapons in the UK.
This type of licence is granted by the Home Office under the Firearms Act 1968. Police are in charge of doing the security checks and vetting those involved on behalf of the government department.
In Hyde's case the vetting for his section 5 licence was done by North Yorkshire police.
We asked the force why they had considered him suitable to continue holding a section 5 licence despite the ongoing Nigeria investigation.
They told us Her Majesty's Revenue and Customs (HMRC), which led the Nigerian investigation, had refused to give them details of the allegations but assured them it was not a matter of public safety.
A spokesman for HMRC, which investigates brokering and export infringements, said: "We were in contact with the relevant UK domestic licensing authorities and a number of police forces from as early as July 2008, alerting them to the nature of the ongoing investigation."
A review of domestic firearms licensing procedures has been carried out by the Association of Chief Police Officers following concerns about another British arms dealer.
Guy Savage is wanted for extradition to the United States where he faces charges of conspiring with others to smuggle weapon parts from the US to the UK.
Mr Savage strenuously denies the charges and is fighting extradition.
The District Attorney's Office in Tennessee told the BBC it had alerted the British authorities in 2009 about its investigation.
But despite this he was allowed to keep his section 5 licence until 2011.
Deputy Chief Constable Andy Marsh of the Association of Chief Police Officers said:
"I am working to make sure we exercise our responsibilities to vet applicants, put in place a rigorous inspection regime that holds people to account. If we have information which casts doubt over that integrity we ask the Home Office to revoke those licences."
A Home Office spokeswoman said the UK had some of the toughest gun laws in the world and licensing conditions were "stringent".
"If these conditions are breached, we will revoke this authority to ensure that public safety is not put at risk," she said.
Listen to the full report on File on 4 on BBC Radio 4 on Tuesday, 15 January at 20:00 GMT and Sunday, 20 January at 17:00 GMT. Listen again via the Radio 4 website or the File on 4 download.