Freezing weather forecast for weekend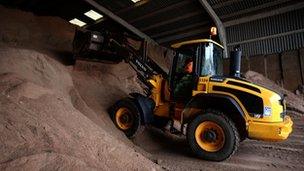 Weather warnings are in place across the UK, with freezing temperatures and snow expected over the next few days.
Temperatures are set to fall below freezing across the UK, dropping to -2C in towns and cities and possibly below -5C in the countryside.
Forecasters say several centimetres may fall, which could cause disruption.
BBC forecaster Steve Cleaton said one or two snow showers were expected in northern areas of England and western Scotland on Sunday.
He said: "It will be a very cold start with a weather front moving across north-western parts of England, Northern Ireland, western Scotland, bringing several centimetres of snow on higher ground. But it is more likely to fall as sleet-rain mix on lower ground."
There is the potential for travel disruption on Monday as the weather front continues to move south and east across England.
Snow is expected to fall in Scotland, northern, eastern, central and south eastern parts of England, with several centimetres possible in many areas.
Latest local news, travel and weather
The Met Office said some "significant accumulations" of around 5cm of snow were likely over low ground, with perhaps 10cm or more over higher ground.
The cold spell is being caused by a sudden stratospheric warming, forecasters explained. They involve an abrupt jump in temperatures high in the stratosphere, which can bring snow.
The Highways Agency said it was "well prepared" for winter conditions, with 500 winter vehicles, including gritters, on standby.
"We have reviewed salt stock levels and taken action where needed to enhance our resilience and we have again established a reserve salt stock to help ensure that there is enough salt to deal with severe winter.
"Our roads will be treated whenever there is a risk of ice or snow. However, even when roads have been treated, drivers should still take care, especially on stretches where the local road layout or landscape means there could be a greater risk of ice forming."
The RAC said it was expecting up to 56,000 breakdowns and widespread disruption on the roads if snow arrived over the weekend.
The AA has urged drivers to be prepared before driving.
Andy Smith, of the AA, said: "It's very difficult to predict the extent of the weather but there could be some disruption even on local journeys, so keep an eye on the weather and traffic reports and plan accordingly."
UK weather maps: click on Key and tabs for extra detail
Related Internet Links
The BBC is not responsible for the content of external sites.