Tom Winsor says outsiders will 'enrich' the police service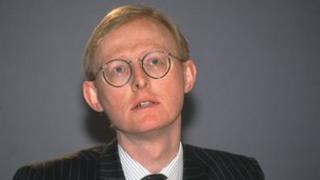 The new Chief Inspector of Constabulary, Tom Winsor, has said the introduction of outsiders into the police will "enrich" the service.
The former rail regulator said direct entry into the police service had the potential to "change the face of modern British policing for the better".
Mr Winsor recommended fast-tracking recruits into roles at inspector level.
Metropolitan Police commissioner Sir Bernard Hogan-Howe said 10% of senior ranks could come from outside.
The president of the Association of Chief Police Officers, Sir Hugh Orde, cautioned against giving too much responsibility to those from outside the police service.
'Work experience'
Sir Hugh said he would not want people on "work experience" in charge of policing disorder in Northern Ireland, where he used to be the chief constable.
In his report, Mr Winsor responded by saying his proposals would not lead to people on "work experience" being put in charge of a public order or firearms operation.
Mr Winsor also wants to allow senior managers to become superintendents after only 16 months' training.
In his first major speech since taking up his post last year, Mr Winsor said there would be a "significant induction" programme to all non-police recruits.
Earlier, Met chief Sir Bernard called for more rigorous training of police officers with a "significant fail rate".
Sir Bernard said without an increase in standards people would regard police training as a process akin to a "sheep dip".
He was addressing a conference on police standards organised by the House of Commons Home Affairs Committee.
He also called for 10% of senior officers to be recruited from outside.
Sir Bernard said: "The time has come to consider and implement lateral entry."
He also said the police service needed to develop a body of academic research of policing and promised that the Met would part-fund some university posts.