Imani Green: Jamaican town hit hard by murder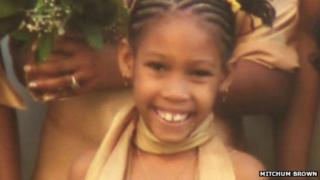 The unpainted wooden store is like so many dotted around the island.
It sells a bit of everything. From beer and a biscuit to washing powder, cigarettes and flour. But this shop is different.
There is a deep gouge in the wooden counter top and in another wall there is a bullet hole - signs of a shooting on Friday that left a British schoolgirl dead.
For Imani Green, Jamaica was a second home. It was where her extended family lived and where she spent many days enjoying the sunshine that made her feel so much better.
The eight-year-old, from Balham, south London, had sickle cell anaemia and the warmth of the island relieved her symptoms.
She had been given special permission to spend part of the school term at a local primary school in the town of Duncans, close to the north coast, so her education would not suffer.
'Gunshot sprinkles'
Every year she visited her grandmother, great-grandmother and cousins and spent time socialising with the rest of her family. Last Friday evening was no different.
But everything changed in a moment, when a gunman entered the little store owned by her older cousin Pinky and shot at four people, including Imani.
Her 16-year old cousin Brandese Brown was in the shop when it happened.
"When I looked, the man started shooting everything, one of the gunshots flew past my face and I could see the sprinkles.
"My little cousin was on the stool and by the time I grabbed her, she was hit in the head. I had to drop her and leave her," she said.
Imani was taken to hospital in the back of a local taxi but died in hospital. The other people injured are still being treated there.
Everyone who lives close to the store is related to Imani.
The shop is on land that has been in the family for generations and relatives have all built homes close by. They say they are shocked that this happened on their doorstep.
Historic town
"I can't sleep, I can't work to this day," said her uncle Michael Brady.
"I normally drive a taxi but I just have tears in my eyes," he added.
Duncans is a historic town. The clock tower and the roundabout that run around it were a landmark for people travelling on the main road between Montego Bay and Kingston.
But the construction of a new highway which bypassed the town caused economic stagnation, making life tough for local people. Agriculture remains the main source of income for many.
Officers from the Trelawny Division police the area.
They say that the mainly rural parish does not suffer the levels of crime seen in Jamaica's inner city.
Last year 14 murders were committed in the parish, down from 19 in 2011, a trend police expect to continue.
Police are hoping for a breakthrough in Imani's case. They have arrested eight men in two raids in a nearby community.
Noel Christie, a senior police superintendent in Jamaica, said: "We're doing intensive interviews with the suspects, and we're hoping something positive comes out of it.
"We're going with a full investigative team to bring closure as quick as possible to the family."
Police are remaining tight lipped about motives, but the country's minister of national security has mentioned a possible link to a Lotto scam.
In recent years, criminals have targeted people in the US to send money to the island and it has become very lucrative. As the cash has rolled in, violence associated to it has risen.
Imani's family say they are finding it hard to move on.
Her grandmother said they may cremate her in Jamaica and split her ashes between her home in London and the island she loved so much.