Poultry industry 'must act' over food poisoning bug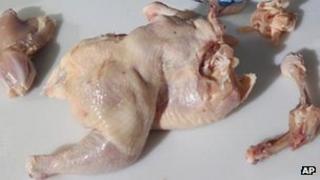 The poultry industry must "take responsibility" for tackling the UK's most common source of food poisoning, the chief executive of the Food Standards Agency (FSA) has said.
A BBC investigation has revealed cases of campylobacter are increasing, with about 500,000 people a year infected.
FSA figures suggest between 60% and 80% of cases can be attributed to chicken.
The British Poultry Council said it was doing everything it could to reduce the risk of infection.
In her first interview since taking up the post in October, FSA chief executive Catherine Brown told BBC Radio 4's Face the Facts programme the human and economic burden of the current situation was unacceptable.
She said: "Industry needs to take responsibility to sort this problem out. There is work going on, but I have flagged up concerns about the pace of progress with the poultry industry.
"There will be costs to all of the interventions required to solve this problem. Some will be passed on to the consumer.
"But there are costs to the situation as it is now. Both huge economic costs and costs in terms of human health and suffering."
The FSA's most recent research suggests about two-thirds of raw shop-bought chicken is contaminated.
Even when a flock is identified as having the bacteria, the birds can still be sold for human consumption on the grounds that, properly handled and properly cooked, they present no risk to human health.
There are three categories of contamination. Some 27% of birds are currently in the highest category.
There is now a target to reduce this to 10% by 2015, which it is hoped would lead to more than 100,000 fewer cases of campylobacter poisoning.
Peter Bradnock, chief executive of the British Poultry Council (BPC), said he acknowledged that chicken was a major source of campylobacter and added that the industry is working on a range of interventions to meet this target.
"The producers and the processors realise that we have a responsibility to reduce to the absolute minimum any possible risk that could be passed on to the consumer, so that when they buy food it's the safest it can be.
"We can do something about this, and we are doing something about it.
"We're looking at rearing systems, at whether there are campylobacter resistant breeds of chicken.
"We're not waiting for someone to tell us the answers, we're actually in there, trialling these different interventions that are coming out of scientific projects and trialling them on real farms," Mr Bradnock said.
For most, the affects of campylobacter poisoning are severe diarrhoea and vomiting.
In 2009 however, more than 17,000 people in England and Wales were admitted to hospital and 88 people died.
The number of laboratory-confirmed cases of campylobacter poisoning reached a high of nearly 72,000 in 2011, although many more cases go unconfirmed.
Campylobacter - the "silent epidemic", will be broadcast on BBC Radio 4's Face the Facts programme at 12:30 GMT on 16 January.