Kingsman David Shaw named as Afghan death soldier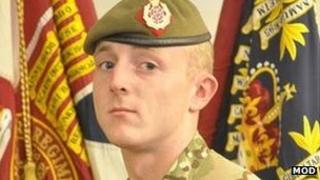 A British soldier who died in a UK hospital on Wednesday after being wounded in Afghanistan has been named as Kingsman David Robert Shaw.
The Ministry of Defence says Kingsman Shaw, 23, from Cumbria, served with 1st Battalion The Duke of Lancaster's Regiment and was injured on Monday.
He was flown to the UK but died at the Queen Elizabeth Hospital in Birmingham.
A total of 440 British service personnel have been killed in Afghanistan since October 2001.
Kingsman Shaw was shot when his checkpoint came under attack from insurgents in the Lashkar Gah district of Helmand Province.
His family said he would be "missed and never forgotten".
They said in a statement: "David was a much-loved son and brother who was proud to have served his country in the 1st Battalion The Duke of Lancaster's Regiment.
"He loved his family and friends and would always make time for a hug for everybody.
"He enjoyed playing football, running and was an Arsenal fan. He also followed his local team, Barrow AFC.
"He has touched many lives."
'Highest calibre'
Kingsman Shaw, from Barrow-in-Furness, joined the army in February 2008 was first deployed to Afghanistan in March 2010. He returned last October as an assault pioneer as well as a qualified sharpshooter, the MoD said.
It said that, in one incident, he administered first aid to four Afghan children who had fallen into a canal after a vehicle accident, showing actions "of the highest calibre".
Lieutenant Colonel Nick Wood, commanding officer of 1st Battalion The Duke of Lancaster's Regiment, said his death was a "devastating tragedy".
"David was a true Cumbrian and Kingsman - physically and mentally tough, a warrior through and through, utterly loyal to those he worked with and possessing a sense of humour that touched us all," he said.
"Known throughout the Battalion as 'Doctor S', he was the most popular of individuals.
"His joking and light-heartedness would lift the gloomiest of situations and have us all laughing. He was someone we all wanted to be with and have around."
Kingsman Shaw is the second British serviceman to be killed in Afghanistan in 2013.
Sapper Richard Walker, 23, from Leeds, died in an insider attack by a suspected member of the Afghan National Army in the Nahr-e Saraj district of Helmand last week.