Church of England no-confidence vote defeated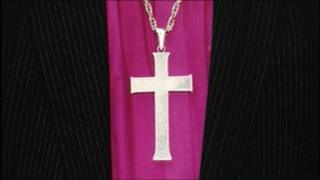 Lay members of the Church of England's ruling synod have defeated an unprecedented motion of no confidence in their chairman, Philip Giddings.
Dr Giddings, who chairs the general synod's House of Laity, had angered some supporters of women bishops.
He spoke against the legislation allowing women bishops when it was defeated by the general synod in November.
The House of Laity defeated the vote of no confidence by 80 votes to 47.
The proposed legislation needed to gain two-thirds majority support in each of the synod's three houses - bishops, clergy and laity - but fell short by six votes in the House of Laity.
The motion of no confidence, proposed by Canon Stephen Barney of the Diocese of Leicester, said Mr Giddings' speech against the women bishops legislation was "a significant contributor to the reputational damage the Church of England is already suffering at the hands of the press".
After the vote, Dr Giddings said: "There are clearly a substantial minority of the House who do not have confidence in me. I intend to continue in office but I shall take careful advice from colleagues about how we proceed from here.
"I hope and pray that we can now put this behind us and the temperature can be lowered, and that we can seek to work together for the sake God's mission to this country," he added.
In the November debate, Dr Giddings had said that the existing proposals for women bishops were unwise and would exclude traditionalists from the Church, saying: "I do believe that we can find a better way."
He also said: "Essentially, I wish to say that it is unwise to go ahead with a measure dealing with fundamental matters of ministry and doctrine with a significant minority of our Church unable to accept its provisions."
Dr Giddings is a member of Anglican Mainstream, a group which says it is "committed to the traditional biblical teaching on marriage, the family and human sexuality".
Some critics of Dr Giddings have argued that the six-vote margin by which the legislation was defeated could be accounted for by his intervention.
Joanna Monckton, from the Lichfield diocese, expressed "disbelief at the un-Christian behaviour" in calling the meeting.
"This is the most cruel way of treating anyone, let alone a senior Christian, who has every right to vote in the way that he did," she said.
"It is merely showing the world how divided we are."