Autism damages case: Father attacks Met over appeal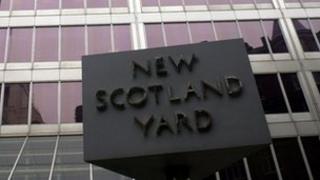 The father of an autistic boy restrained by Metropolitan Police officers after he jumped into a London swimming pool has attacked the force for fighting a ruling against them.
Last year a judge said officers had falsely imprisoned and discriminated against the boy, known only as ZH.
He was placed in handcuffs and leg restraints and put in a police van.
The Met appealed against the judgement on Tuesday, saying it could affect operational effectiveness.
In 2008, ZH, then aged 16, was on a school trip to Acton Baths in west London. He has severe autism and epilepsy and a mental age of five. He can react adversely if touched or approached by someone he does not know.
During the trip, he became fixated by the water and approached it, staying by the pool side for at least half an hour. His carers told swimming pool staff that his behaviour was consistent with his condition and he had to be given time to move away of his own accord.
When police officers called by the pool manager arrived, they tried to take hold of ZH. He immediately jumped into the chest-deep water. Witnesses say he was not in trouble in the water and bobbed up and down excitedly.
But as police officers then tried to forcibly get him out, ZH became agitated and distressed. Soaking wet, he was eventually restrained by two pairs of handcuffs and leg restraints and locked into the cage compartment of a police van.
Central London County Court heard the experience exacerbated ZH's epilepsy and he was diagnosed with post-traumatic stress disorder.
In a significant ruling against the Met, the judge Sir Robert Nelson found the force had subjected ZH to inhuman or degrading treatment and to unlawful discrimination because of his disability. He awarded the boy almost £30,000 in damages.
The judge said: "What was needed from the police on their arrival was a calm assessment of the situation so as to ensure that they were as fully informed as the circumstances permitted before taking action.
'Not a crime'
"They were not summonsed to deal with a crime but with a disabled young man trying to get into a swimming pool."
In a statement issued through solicitors Bhatt Murphy, ZH's father criticised the Metropolitan Police for refusing to accept the ruling and deciding to argue the case before three of the country's most senior judges at the Court of Appeal.
ZH's father said: "The thousands of pounds of public money spent by [Metropolitan Police] Commissioner Hogan-Howe defending the indefensible would be much better spent requiring his officers to treat people with disabilities humanely."
At Tuesday's High Court hearing Metropolitan Police lawyers said their officers faced an "unrealistic and unworkable" situation in the light of the Central London County Court ruling.
Anne Studd QC, representing the police, said Sir Robert had failed to understand "the bigger policing picture" and had reached a "flawed and unworkable conclusion".
"In the light of this judgment the guidance must be that a belief that a person is in potential danger is insufficient to approach the individual until attempts have been made to consult his carer," she added.
The Equalities and Human Rights Commission and campaign group Liberty have criticised the police's action and been given permission to make submissions to the court.
Liberty's legal officer, Emma Norton, said: "In a case like this, simple common sense dictates that the police talk to the carer before deciding to intervene with a disabled child who is not hurting anyone. It also happens to be the law.
"As long as the police deny the lessons of this horrifying case, people like ZH continue to be at risk from the very people who are meant to protect them."
'Horrifying case'
A spokesman for Scotland Yard said: "The issues raised in this case are very important. The Metropolitan Police Service believe that the county court judgement would impact on future operational effectiveness and are therefore appealing the decision."
National Autistic Society director Carol Povey said: "ZH and his family have waited a long time for a resolution and it's important that the police learn from horrifying case.
"Autism training is not routinely provided as part of police training in the UK despite the fact that the condition affects one in 100 people.
"People with disabilities look to the police to protect them and it's vital that their needs and behaviours are understood and accounted for. Autism training should be standard in officer training to ensure that policemen and women understand the needs of this section of society thereby ensuring that disturbing cases like this never happen again."
The case continues.
Acton Baths has since closed and is currently being refurbished by the local council.