Birmingham terror suspects 'told outlandish lies'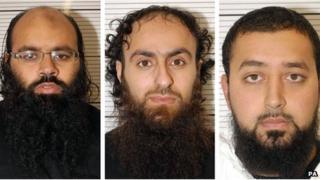 Three men accused of planning suicide bombings told "outlandish lies" to escape justice, a jury has heard.
Irfan Naseer, Irfan Khalid and Ashik Ali, all of Birmingham deny conduct in preparation of terrorist acts.
But prosecutor Brian Altman QC said the three-month trial had exposed their "manufactured nonsense".
Woolwich Crown Court has heard they were planning a bombing campaign which could have been bigger than the 7 July London attacks had they succeeded.
Police believed the men were hoping to detonate as many as eight rucksack bombs against multiple targets in the UK.
Mr Naseer, from the Sparkhill area of Birmingham, and Mr Khalid, from the Sparkbrook area, are also accused of preparing for acts of terrorism by receiving training in Pakistan.
The jury was told by prosecutors at the start of the trial that the pair had recorded suicide videos in Pakistan that would have been played to the world had their plot been completed.
During the long trial, the jury has been taken through hours of secret surveillance recordings of the men and other alleged plotters filmed before their arrest in September 2011.
Beginning his closing speech, Mr Altman said the three men on trial had told "a series of outrageous and outlandish lies" to try to escape their own words in the recordings.
"There can hardly be a jury in this country that has been treated to more manufactured nonsense than this," he said.
Mr Altman said that the evidence showed the men were inextricably linked to each other. Mr Naseer was the leader, with Mr Khalid not far behind, he said. Mr Ali had separately provided a flat "away from family and other prying eyes".
"Innocent people don't behave the way they behaved," he said.
During the trial, the jury heard the men had bought sports injury packs which prosecutors say contained chemicals useful in bomb-making. Mr Naseer was allegedly planning to construct explosive devices and police recovered a partially burnt note that detailed a method to make a bomb.
Mr Naseer told the jury that, in his conversations that were secretly recorded, he was in fact only pretending to be a terrorist to make himself look big.
He said he had posed as a trained plotter with al-Qaeda contacts because he had faced rumours in his local community that he was a Pakistani spy.
But Mr Altman said: "[The defendants] have invented between them the most elaborate and literally fantastic stories around the evidence... which we suggest has now been exposed to you as pure fabrication."
"They were all detaching from their families. Why? In order to prepare for the 'ammal' [action]."
The trial continues.