UK sergeant 'stranded' in Kenya after civilian shot dead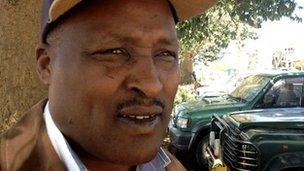 Britain's relations with Kenya are under strain over an incident in which a Kenyan civilian was shot and killed during a military training exercise.
A British army sergeant is at the centre of a political tussle between the two governments over the case.
The soldier has been unable to leave Kenya for more than seven months following the shooting.
Britain has a military agreement with Kenya, with 10,000 UK personnel a year visiting the country for training.
UK soldiers were clearing an area of scrubland early on 10 June last year in preparation for a live-fire exercise.
They spotted a group of local men, at least one of whom was armed. In the ensuing confrontation, a Kenyan civilian was killed.
The precise circumstances of the shooting are still unclear, but the sergeant who was involved in the incident is still in Kenya.
BBC East Africa correspondent Gabriel Gatehouse says the sergeant is confined to a British base while the two governments wrangle over legal jurisdiction in the case.
He says the soldier has been named in the Kenyan parliament as Sergeant Madison.
Our correspondent says the question of what should happen to him has become a big issue in the "febrile" atmosphere as a general election looms in Kenya in March.
Kenyan Prime Minister Raila Odinga denied the case would damage Anglo-Kenyan relations but told BBC Radio 4's Newshour programme he believed that someone should be tried "in the jurisdiction" where a crime is alleged to have been committed.
"I think that our judiciary, which has been fundamentally reformed, is fairly competent in offering a fair trial to any national, including British," he said.
Rafael Letimalo, the local MP, told BBC Radio 4's Today programme: "If foreign troops commit an offence that is punishable by Kenya's laws, then they are also subject to the same laws."
The military training base in Kenya provides British troops with valuable experience before being deployed to conflict zones such as Afghanistan.
The deal is worth £25m to the Kenyan economy, and more in infrastructure projects, but officials and diplomats on both sides are suggesting this agreement is now under revision.
Col Mark Christie said of live-firing exercises: "The normal form is to negotiate and move [people] off because clearly it's dangerous. And on this occasion there was an exchange of fire, which resulted in the incident."
Col Christie, the commander of the British training base in the town of Nanyuki, says: "A lot of the kit, equipment, even the very basic things we have are very attractive to the local population and they're willing to go to quite extreme lengths to get hold of it. And of course that brings them into direct contact with us while we're doing our training."
He said in the past night vision goggles had been stolen and recovered in the possession of poachers.
Last week a British man was killed by bandits in northern Kenya.
Jamal Moghe, a special constable with the Metropolitan Police, was believed to be travelling from Marsabit towards Nairobi, after visiting his family.
Odiambho Joseph, from the BBC's Swahili service, says banditry has been on the increase recently and in the last year several Kenyan policemen have been attacked and killed by suspected Islamist militants from Somalia.
A British Foreign Office spokesman said: 'We are working closely with Kenyan authorities to determine jurisdiction under the memorandum of understanding agreed between the two countries. We hope that this will be resolved soon."
A British Ministry of Defence spokesman said: "The British military has trained in Kenya for decades and we have an excellent long-standing relationship with the Kenyan armed forces and local communities surrounding the training areas. The vast majority of deployments are without incident and thousands of service personnel have visited the country in preparation for Afghan operations.
"We are aware of a shooting incident involving a British soldier and a Kenyan national and we are co-operating fully with the Kenyan authorities to resolve the case.
"We remain in close contact with the soldier and his family to ensure that they have all the necessary welfare and legal support."
Related Internet Links
The BBC is not responsible for the content of external sites.