Senior armed forces roles announced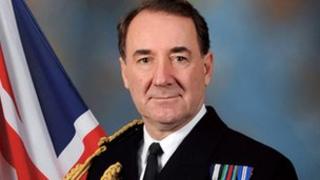 New heads of the Royal Navy and Royal Air Force are among appointments to be announced by Defence Secretary Philip Hammond.
Adm Sir George Zambellas is to be appointed First Sea Lord and Chief of the Naval Staff in April.
Air Marshal Sir Andrew Pulford is promoted to Air Chief Marshal and will become Chief of the Air Staff in July.
The identity of the new overall head of the armed forces will be announced in March, Mr Hammond said.
Gen Sir Nicholas Houghton is replaced as Vice-Chief of the Defence Staff by Air Chief Marshal Sir Stuart Peach.
His role as Commander Joint Forces Command will be filled in turn by Lt Gen Richard Barrons, who will be promoted to the rank of general.
A new head of the army will be announced "later in the year", the MoD said.
Adm Zambellas began his 33-year Navy career flying helicopters and captained HMS Chatham during the Sierra Leone intervention in 2000.
He played a leading role in the 1997/98 Strategic Defence Review. During 2012 he served as the Navy's Fleet Commander as well as commanding Nato maritime operations from its UK headquarters in Northwood.
He replaces Adm Sir Mark Stanhope.
Air Marshal Pulford trained as a helicopter pilot, with 5,000 hours in Wessex and Chinook aircraft. He has seen operational service in Northern Ireland, the Falklands, Lebanon, the Balkans and the Gulf.
He will replace Air Chief Marshal Sir Stephen Dalton.