Asylum benefits delays criticised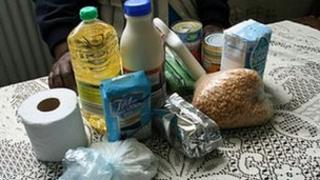 Too many genuine refugees are becoming destitute because of administrative delays in helping them to settle in the UK, a cross-party inquiry has found.
Families entitled to support and benefits were not always receiving them, a report on its findings said.
The inquiry said many former asylum seekers were at risk of becoming homeless after being granted the right to stay in the UK.
A UK Borders Agency spokesman said it would consider the findings carefully.
Sarah Teather, Liberal Democrat MP and chairwoman of the report, which was produced by Parliamentarians with the assistance of the Children's Society, said the panel had found "woeful" levels of support were pushing children into severe poverty.
The inquiry heard from more than 200 individuals and organisations, including refugees and asylum support experts.
'Shocking and appalling'
Asylum seekers who are waiting for a decision on their case receive support and housing through a national service run by the UK Border Agency (UKBA).
If they are given permission to stay in the UK or are protected as refugees they are eligible to apply for mainstream benefits.
But the report found that adults who had been seeking asylum were often most at risk of homelessness in the first three months after being allowed to stay.
It said the UKBA ends its support 28 days after a decision, despite it sometimes taking far longer for applications for standard benefits to be accepted.
The report said a third of the 10,000 asylum cases who had turned to the British Red Cross for emergency food parcels and other support were people who were waiting for benefits they were already eligible to receive. It could take as long as six months for families to be paid child benefit.
Organisations that house asylum seekers for the UKBA must inform local authorities if someone is granted refugee status. The agency also funds charities to provide support and advice to people who are starting their new lives in the UK once they have been given the right to stay.
But Ms Teather, a former children minister, said: "Woeful levels of support for asylum seekers are pushing children into severe poverty and are far below what they need to have a decent life.
"The evidence we have heard is shocking and appalling. It is an affront to this country's proud tradition of giving sanctuary to those fleeing danger and violence.
"We have to ask ourselves, what sort of country do we want to be? One that protects vulnerable children, or one that allows them to go destitute, scared and hungry?"
A UKBA spokesman said: "Our asylum support system meets the needs of asylum seekers and we take the welfare of children and families extremely seriously.
"We will consider the findings of this report carefully."