Working with the UK's most dangerous criminals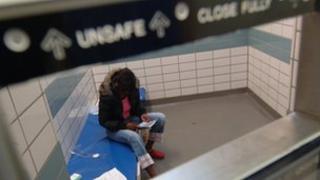 Every year thousands of people convicted of serious crimes are released from prison before the end of their sentence. Making sure they do not reoffend is not an easy task.
"My world consists of murderers and rapists and armed robbers," says probation officer Liz Carter.
Part of a public protection team dealing with 70 of the most dangerous offenders in Brighton, it is her job to try to make sure that they do not need to be returned to prison - and that the public is safe.
Nationally, 8,000 such offenders - mostly convicted of sexual and violent crimes - are released under licence each year, which means they spend part of their sentence living in the community under strict conditions.
Many fail to keep to the terms, with one in eight recalled to prison on the advice of the probation officers who assess their progress.
Alcohol limit
Among Carter's cases is David Lown, a 20-year-old back in Brighton 18 months after a crime which saw him jailed for kidnap and GBH.
After drinking heavily, he and an accomplice decided to steal more alcohol and lured a young man to give them a lift. Over the next two-and-a-half hours he was forced to drive them - a knife at his throat - before being severely beaten.
The terms of Lown's release mean he must stay at a hostel, keep to a curfew and, critically, stick to an alcohol limit similar to that for drink-driving.
He is unimpressed, arguing that the conditions are no better than those in prison and that he is being given "chances to fail".
Carter is not confident that he will behave: "I think he'll struggle to not have a drink. I don't think he could go into a pub and have one."
It is not long before Lown fails a series of breath tests, but even after a final warning he is not convinced by the officers' stance.
"When you're messing around with probation, it's a game of cat and mouse," he says. "They're always trying to catch you, you're always trying to get away.
"I know I kind of got away with it really."
Another failed breath test follows and the decision is taken to recall him to prison.
"If he's going to drink, he can't be in the community," says Carter. "It is about risk, but I am human as well... I don't feel sorry for him, but I do feel for him."
' I struggle quite hard'
Some of the cases the team deals with stir up strong emotions.
They are monitoring 30 paedophiles and it is sometimes these cases that senior officer Mark Burden finds most difficult.
"One of the things that people perhaps don't appreciate about being a probation officer... is you're dealing with this every single day - someone is talking to you about committing... some of the most depraved, horrific things that you could imagine."
He adds: "I now accept that I struggle quite hard with some of the child abusers that we have. I will need to have a chat with some colleagues and some friends... before going home to my children."
Burden's colleague, Linda Kelly, became a probation officer after working in a women's refuge and asking herself: "Why aren't we working with the people that are doing the abusing?"
Her cases include a man jailed for raping a woman in the street, after he took cocaine and ketamine.
He must now tell any woman he enters a relationship with about his conviction and Kelly suspects that he has a new girlfriend.
The man, who cannot be named to protect his victim, says they have just "cuddled on the bed".
And he does not think he should have to tell her what happened.
The attack, he says, "was a one off - way out of what my crime usually is". He does not want to be judged "like every other predator on the street".
For Kelly, the danger he poses is clear.
"The victim lost her job, her marriage broke down and in essence, her life collapsed. How do you pick yourself up from that?"
Knowing that such people are part of the community is not easy and, she says, can make her treat her adult daughter as if she were 16 again.
"If I hear that my daughter is going out to clubs in the area that I work and, particularly if I know there's been a release of a reasonably high profile sex offender... I'll be incredibly anxious."
The rapist is soon arrested following a disturbance outside his ex-girlfriend's house.
He has cocaine in his pocket and, because his actions suggest he is still a danger, he is recalled to prison.
It means he no longer poses an immediate threat, but the team is concerned about what will happen once he has completed his sentence in prison and is freed without strict conditions.
"He's not a guy, with all the support we've thrown at him, that seems to be able to manage particularly well in the community," says Burden. "It's not really a problem solved, is it?"
'Really encouraged'
Although public protection teams like the one in Brighton deal with only the most serious cases, probation officers also work with those convicted of less serious cases.
Every person sentenced to more than a year or given a supervision requirement is allocated a probation officer.
In all, there are about 250,000 offenders on probation, with 10,000 officers monitoring them. Under government plans outlined in January, private firms and charities could be given responsibility for supervising the 200,000 low and medium-risk offenders on a payment by results basis.
Currently, nearly half of all offenders who leave prison reoffend within a year - but they are more likely to do so if they are not under supervision.
For Kelly it is this ability to monitor - and to swiftly return offenders to prison if necessary - which should leave the public "really encouraged".
Carter agrees: "Most of the time it works, they [the public] only hear about it when it goes wrong. And then I think 'Well, we must be doing a worthwhile job, because it doesn't go wrong that often'."
Out of Jail and on the Streets is shown on BBC One at 22:35 GMT on Tuesday, 5 February.