Operation Elveden: Arrest in police corruption probe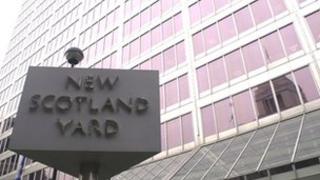 A police officer has been arrested as part of the ongoing investigation into allegedly corrupt payments by journalists to police.
The 33-year-old Metropolitan Police officer was held at his home in Barnet, north London at about 05:45 GMT as part of Operation Elveden.
He was questioned on suspicion of misconduct in a public office before being released on bail until April.
The specialist crime and operations officer is based in central London.
He was interviewed at a north London police station and a search of his property was carried out.
Some 59 people have now been arrested as part of the investigation.
Scotland Yard said the arrest was the result of information provided to police by News Corporation's Management and Standards Committee.
A spokesman said: "It relates to suspected payments to a police officer and is not about seeking journalists to reveal confidential sources in relation to information that has been obtained legitimately."
The officer is the second person arrested this week by officers working on Operation Elveden.
A prison officer was bailed on Monday after he was arrested at his home in Sittingbourne, Kent, on suspicion of conspiracy to cause misconduct in a public office.
Of those arrested as part of the investigation, eight people have faced, or will face, court proceedings.
And two - a retired police officer and a former journalist - have been told they will face no further action.
Operation Elveden is being run alongside two other police investigations.
Operation Weeting, an inquiry into alleged phone hacking, has seen 26 arrests.
Meanwhile, an investigation into computer hacking and other privacy breaches - Operation Tuleta - has led to 19 arrests.