Midwife 'role' as NHS targets female genital mutilation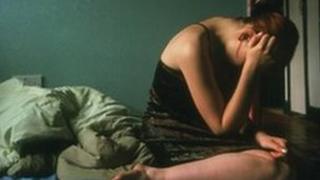 Midwives may be asked to routinely raise the subject of female genital mutilation with women from communities where it is known to take place, the Department of Health has indicated.
The partial or total removal of external female genitalia is illegal in the UK but the practice occurs in parts of Africa, the Middle East and Asia.
The DoH says the NHS has a "key role... in supporting anyone affected".
It also hopes to identify girls who may be at risk in the future.
Guidelines for health professionals in England and Wales on how to safeguard children and adults affected by FGM were published by the DoH in 2011.
The possibility of midwives asking their patients more questions about the procedure comes after the Crown Prosecution Service launched an action plan in November to target FGM and moves by the Royal College of Midwives to improve its own monitoring efforts.
FGM is said to be typically inflicted on girls aged between four and 13 and women who have been cut can also experience problems during child birth.
No prosecutions
A DoH spokesperson said: "FGM is a serious criminal offence. Health professionals should always take action when they believe a child or young person has been assaulted in any way, to protect them and others from further harm.
"The health system plays a key role in identifying and supporting anyone affected by FGM.
"That is why we are exploring the collection of FGM data in the NHS, including in the maternity and children's dataset."
FGM is known to be carried out in more than 28 countries, mainly in western and southern Asia, the Middle East, including Yemen and Saudi Arabia, and parts of Africa such as Somalia, Egypt, Ethiopia and Sudan.
According to the Metropolitan Police, there is no evidence of FGM being performed in UK, but it says anecdotally it is reported to have happened.
There have been no prosecutions to date in the UK.
But it is also illegal for British nationals or permanent residents to be taken to another country for the procedure. Anybody convicted of involvement in FGM can be jailed for up to 14 years