UK to grant £3m aid boost to Somalia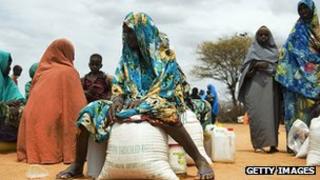 Somalia will receive almost £3m in new aid from the UK, it was announced as the country's president visited London.
Some £1.47m will support Somalia's new government and federal parliament. The other £1.5m million will help provide food for up to 60,000 malnourished children and mothers.
Somalia is emerging from decades of civil war, which has disrupted the distribution of aid.
The UK pledges £63m in aid and to other projects in Somalia annually.
That includes money towards accessing jobs. schools and health clinics.
Somali parliamentarians will visit London in coming months for advice and training from parliamentary and constitutional experts as part of a joint programme with Norway.
The programme aims to help young Somali graduates take part in internships in the new House of the People in Mogadishu, with the aim of training a new generation of public servants to help to establish peace and democracy in Somalia.
'Stability chance'
International Development Secretary Justine Greening announced the extra £3m. She said: "It's vital that we make the most of the close links between our two countries as Somalia rebuilds its democracy.
"After last September's elections, the most representative process in decades, Somalia now has a real chance to make progress towards stability and peace after 21 years of conflict.
"UK support will also provide food and support to tens of thousands of Somalis as they cope with a food crisis caused by drought and years of instability."
Prime Minister David Cameron and President Hassan Sheikh Mohamud are due to co-host an international conference on Somalia in the UK on May 7.