Prince Harry's combat comments excused by Karzai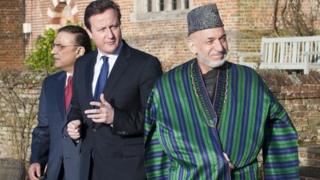 Afghan President Hamid Karzai has excused comments made by Prince Harry about fighting Taliban members while serving in Afghanistan.
The prince was accused of "crass" comments about taking Taliban fighters "out of the game".
President Karzai told ITV News and the Guardian: "Young men do make mistakes talking."
Meanwhile, it has been announced the prince will visit Lesotho and South Africa for his charity, Sentebale.
Prince Harry, an Apache helicopter co-pilot gunner, arrived back from his second tour Afghanistan less than two weeks ago, having completed a 20-week deployment.
President Karzai is in the UK for talks with Prime Minister David Cameron and Pakistani President Asif Ali Zardari aimed at securing closer ties between Afghanistan and Pakistan.
When asked about Prince Harry's comments, the president said: "Well, as I said, he's a young man, and young men do make mistakes talking, while behaving.
"All of us have gone through that period, so let's drop it there.
"Prince Harry is a young man, we do give exits to young men when they make mistakes."
The Stop The War Coalition had branded Prince Harry's comments regarding fighting Taliban insurgents as "crass".
Fundraising drive
Prince Harry will leave at the end of February for the three-day trip to South Africa.
He set up the Sentebale charity to support orphans and vulnerable children in Lesotho.
The 28-year-old last visited Lesotho in 2010 when he took his brother, the Duke of Cambridge, to see Sentebale's work.
His trip will begin with two days of private visits to Sentebale programmes around Lesotho.
On the final day he will carry out public engagements in the Maseru district before attending the Sentebale gala dinner in Johannesburg.
The dinner will mark the launch of the charity's major fundraising drive to build a permanent centre for children and young people.
The Mamohato Centre - named after the mother of Sentebale co-founder Prince Seeiso of Lesotho - will provide psychological care and peer mentoring for children and young people with HIV/Aids.
The prince's commitment to Lesotho - a land-locked country within South Africa - began in 2004 when he spent part of his gap year in the country, working with various charities and organisations.