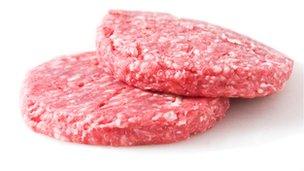 The discovery of horsemeat in processed beef products sold by a number of UK supermarket chains last month has resulted in a series of product recalls and thrown the spotlight on the food industry's supply chain. It has also inspired a stricter food testing regime across Europe. So how did the scandal unfold and what is being done?
1. Comigel: Food processor
3. Spanghero: Meat processor
2. Tavola: Factory
4. Subcontractor
5. Trader
6. Abattoirs
7. Supermarkets
French food producer makes order
Comigel HQ in Metz, north-east France, asks its subsidiary, Tavola in Luxembourg, to make food products - including beef lasagne for Findus.
Factory orders meat
The Tavola factory orders the meat from Spanghero in the south of France.
Subcontractor used
Spanghero contacts a subcontractor in Cyprus to source the meat.
Subcontractor enlists trader
The Cypriot subcontractor in turn contacts a trader in the Netherlands.
Trader orders from Romania
The trader in the Netherlands places an order for meat with abattoirs in Romania.
Abattoirs send meat to France
The meat from the abattoirs travels to Spanghero in France. However, Romania rejects claims that it was responsible for wrongly describing the horsemeat from its abattoirs as beef. Horsemeat is always labelled as such, they say. The Romanian authorities claim records show orders had been for horse carcass - easily distinguishable from beef.
Meat used to make products
Spanghero sends the meat to the Comigel subsidiary's factory in Luxembourg before the finished products are supplied to Findus and retailers across Europe, including the UK. The president of Comigel says the company was unaware the meat was coming from abroad.
Horsemeat found in Ireland and UK
Tests by Irish authorities have found equine DNA in beefburgers made by firms in the Irish Republic and the UK. Traces of horsemeat have also been found in stored meat at another plant in Ireland and one in Northern Ireland. In mainland Britain, police and officials probing alleged horsemeat mislabelling have carried out raids at a slaughterhouse in West Yorkshire and a meat firm near Aberystwyth. Three men were later arrested on suspicion of offences under the Fraud Act..
Related Internet Links
The BBC is not responsible for the content of external sites.