Torso case boy 'identified'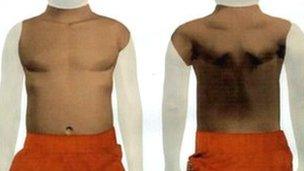 A murdered African boy whose torso was found in the River Thames in 2001 and whose identity has remained a mystery has been named by a key witness.
Former Glasgow resident Joyce Osagiede, who now lives in Nigeria, told BBC News the boy's name was Patrick Erhabor.
She claims she looked after him when she lived in Germany before he was trafficked into the UK.
Detectives - who named the boy "Adam" - believe he was murdered as part of a ritual sacrifice.
Adam's torso was found on 21 September 2001 near Tower Bridge in central London.
His arms, legs and head had been expertly cut off.
No-one has been charged with the murder.
Forensic tests showed he was from the Benin City area of Nigeria.
A tip-off led to Joyce Osagiede who, in 2002, was living in Glasgow.
Officers thought she was involved in some way, but due to a lack of evidence and doubts about her mental state she was deported to Nigeria.
But last year Ms Osagiede contacted BBC News and said she was now prepared to reveal everything she knew about the case.
A BBC team travelled to her home in Benin City in southern Nigeria, together with Nick Chalmers, a former detective who worked on the Adam investigation.
Ms Osagiede told the BBC she looked after the boy in the weeks before he was trafficked to London and then murdered.
For the first time she revealed what she claimed was his real name.
She said he was called Patrick Erhabor - and that his mother's surname was Oghogho - and she claimed the child was brought to her when she lived in Germany.
In the past, she has told officers she then handed the boy over to a man she called "Bawa" who took him to the UK.
Now, for the first time, she has identified "Bawa" as Kingsley Ojo - a bogus asylum seeker who first came to London in 1997.
"Bawa is called Kingsley," she says.
There is no evidence Kingsley Ojo was involved in the murder or that he knew what would happen to the boy.
Ms Osagiede says he took Adam from her and took him to the UK.
Ojo, who used three different identities, was arrested in London in 2002 by officers investigating the Adam case.
In his flat they found in a plastic bag, a mixture of bone, sand and flecks of gold very similar to a concoction found in the dead boy's stomach.
'Interesting' development
There was also a video marked "rituals" which showed a B-movie in which an actor cuts off the head of a man.
Ojo said the video and mixture belonged to other people in the house and detectives could not establish a link between him and the Adam case.
In 2004, he was sentenced to four-and-a-half years in prison for people smuggling. While in prison he contacted officers and offered to help with the inquiry.
But investigators concluded he was wasting police time and he was deported to Nigeria.
Retired detective Nick Chalmers, who worked on the inquiry for seven years, said Ojo was "someone I've been interested in for a long while - I've always suspected his involvement and now, for the very first time, we have a witness who is saying categorically Kingsley was involved".
Kingsley Ojo refused requests from BBC News for an interview, but he has always insisted he had nothing to do with the killing.
Mr Chalmers said the development with the name given by Ms Osagiede was "really interesting".
But he also recognises she has been unreliable in the past and has psychiatric problems. She is currently taking medication.
In 2011 she identified a photograph discovered by the police - and shown to her by a journalist - as the dead boy and said his name was "Ikpomwosa".
Ms Osagiede now says that was all a misunderstanding and reveals the picture is "Danny, my friend Tina's son, he lives in Germany".
She says it was taken during a party in her old flat in Hamburg.
We travelled to Hamburg to find out if she was telling the truth about the photo and tracked down Danny.
He immediately recognised the photo but was surprised to hear it had been used by newspapers and TV news around the world.
"You said that I was already on TV and I didn't know it," he said.
We located Ms Osagiede's old flat on the other side of the city where she looked after the boy she calls Patrick.
There we met a man who saw the child.
"The boy was running around, he was wearing shorts and a T-shirt and he was jumping all over this couch that they had and drawing on it," he said.
The BBC shared what it had learned with the Metropolitan Police.
A spokesman for the Met said "the investigation remains ongoing and any new information provided to the team will be thoroughly investigated".
Anyone with any information should call Crimestoppers anonymously on 0800 555 111.