Vicky Pryce chose to take Chris Huhne's points, QC says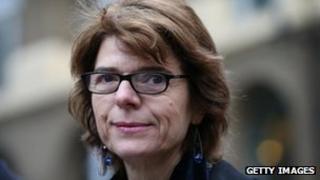 Vicky Pryce is a clever woman who took Chris Huhne's speeding points "because she chose to do so", a court has heard.
Prosecuting QC Andrew Edis told Southwark Crown Court Ms Pryce was one of the UK's "most powerful, talented, intelligent" women and not "the quivering jelly kind".
He said the couple had agreed on the decision, and she had not been coerced.
Ms Pryce denies perverting the course of justice. Huhne admitted the same charge last Monday and quit as an MP.
Liberal Democrat ex-cabinet minister Huhne and Ms Pryce, an economist, were charged over an incident in March 2003 when his car was caught by a speed camera on the M11 between Stansted Airport and London.
It is alleged that between 12 March and 21 May 2003, Ms Pryce falsely informed police that she had been the driver of the car, so Huhne could avoid prosecution.
'Brilliant career'
In his closing speech, Mr Edis QC told the court: "One of the most powerful, talented, intelligent and trusted women in the country wishes you to think that when she took some points for her husband in 2003 she had no real choice in doing so."
But he insisted: "There's no doubt that she took his points, there's no doubt that that's a crime.
"Ms Pryce took the points because she chose to do so. She had a real choice and she exercised it in the way she did.
"You're not talking about a woman who's under the thumb of anyone. You're talking about someone who's had a brilliant career because throughout it she's made very good decisions.
"Is she the quivering jelly kind? No she isn't. Is she the kind of person who can stand her ground and make her choices? Yes she is."
He added: "When two powerful, clever, affluent people choose a course of action… they do so with their eyes open."
'Wool over eyes'
The court also heard that Ms Pryce had falsely told the Mail on Sunday that Huhne's political aide - Liberal Democrat official Jo White - had taken the points, so she would not "get into trouble".
Mr Edis said it was the best way of destroying her husband's career because it did not expose her to any consequences. But he added the newspaper had soon discovered the "real story".
Speaking to the jury, Mr Edis said Ms Pryce's behaviour indicated she was "trying for some reason to pull the wool over your eyes to mislead you".
"If that's the case, it fundamentally undermines her credibility," he said.
He said Ms Pryce's claims in court were "bare-faced lies" and it was "rubbish" for her to say she had not wanted to place the stories about Huhne in the Mail on Sunday.
However, Julian Knowles QC, defending, accused the prosecution of stereotyping Ms Pryce's character, arguing that a person's success and intelligence did not make them immune to pressure.
The trial was adjourned until Wednesday, when the defence's closing statement is expected to continue.