Vicky Pryce 'bullied' into points swap, defence says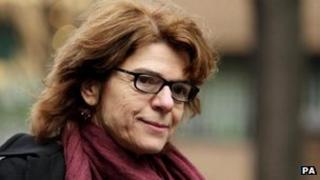 Vicky Pryce was a "real woman with real pressures" who was bullied into taking responsibility for Chris Huhne's speeding offence, her lawyer has said.
Julian Knowles QC told Southwark Crown Court a "second's lapse" saw her sign a form and take her ex-husband's driving licence points.
Ms Pryce, 60, who denies perverting the course of justice, claims she was coerced by Huhne in 2003.
He has admitted the same charge and has resigned as an MP.
Liberal Democrat ex-cabinet minister Huhne and Ms Pryce, an economist, were charged over an incident in March 2003 when his car was caught by a speed camera on the M11 motorway between Stansted Airport in Essex and London.
It is alleged that between 12 March and 21 May 2003, Ms Pryce falsely informed police that she was the driver of the car so Huhne could avoid a driving ban.
In his closing address on Monday, prosecutor Andrew Edis QC said Ms Pryce was one of the UK's "most powerful, talented, intelligent" women and not "the quivering jelly kind" and took Huhne's points "because she chose to do so".
But addressing the jury, her defence barrister said she was a "woman of integrity" with the same emotions and frailties as anyone else.
'Ruthlessly ambitious'
Ms Pryce has adopted a defence of marital coercion, claiming Huhne forced her into signing a form he had already completed in her name.
"She is not superwoman, they exist only in comic books, she was a real woman with real pressures," Mr Knowles said.
He told the court Huhne, who was bidding to become an MP at the time, wore Ms Pryce down by "badgering" her to take the points.
"Everyone has a breaking point, everyone runs out of gas, everyone makes mistakes, has moments of weakness, can be worn down," he said.
He said Huhne was "ruthlessly ambitious" and a man "who didn't let anything stand in the way of his career".
"She was under lots of pressure from him," he added.
"Bullies, domineers, don't just use their fists, they don't have to... This combination of pressures forced her into a second's lapse when she scribbled her name on the form."
The prosecution said Ms Pryce passed the story about his speeding offence to the press in revenge for his extra-marital affair.
Mr Knowles told the court she had a "cocktail of emotions which swirled around and settled in different ways at different times" and later regretted revealing the story to a journalist from the Sunday Times.
In his summing up, the judge outlined Ms Pryce's defence, telling jurors a wife is morally blameless in law if she commits an offence only because her husband was present and coerced her.
Mr Justice Sweeney said a not guilty verdict would require them to be sure she had no choice but to do as her husband ordered and that he was present at the time she signed the paperwork as she said he was.
If the jury, however, was sure that Huhne was not present when Ms Pryce signed the form they should find her guilty.
The case has been adjourned until Thursday when the jury is expected to be sent out.