Overseas visitors spend record amounts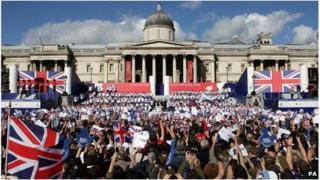 A record amount was spent in the UK by overseas visitors last year, according to the Office for National Statistics.
Foreign visitors spent £18.71bn last year, a rise of 4% on 2011.
The Diamond Jubilee and the London Olympics meant the number of trips made to the UK by visitors rose to 31.15 million in 2012 - an increase of 1%.
The figures also showed that UK residents made 56.61 million visits abroad in 2012, a similar figure to the number of trips made in 2011.
Spending abroad by UK residents during the 2012 trips rose to £32.56 billion, an increase of 3%. This was despite a 1% dip in spending during the last three months of last year.
However, while the number of trips to Europe by UK residents rose slightly last year, visits to North America dipped 5%.
Patricia Yates, director of strategy and communications at VisitBritain said the country had "managed to avoid the threatened displacement in the year of the Games".
She added: "Our tourism strategy was clearly to use the showcasing of the Games and turn the millions who watched coverage of Britain into visitors in the months and years ahead.
"We have made an excellent start and will continue our work promoting Britain as a great place to visit to deliver further revenue and jobs in the UK through 2013."