Operation Elveden: Senior Met officer held over leaks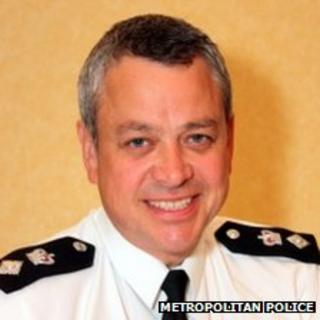 The senior police officer arrested yesterday on suspicion of leaking confidential information is Ch Supt Andy Rowell, commander of the London borough of Ealing, the BBC understands.
He is thought to be the most senior officer arrested as part of inquiries set up after the hacking scandal.
Scotland Yard said Ch Supt Rowell was "currently away from his office" and was being replaced temporarily.
Ch Supt Rowell, 51, from Wiltshire, has been a policeman for 29 years.
He has worked in Criminal Investigation Department (CID), the murder command, and became borough commander in 2010.
After being questioned, Mr Rowell was released on police bail until March and suspended from duty.
On Thursday, the Met confirmed Operation Elveden officers had arrested a 51-year-old police officer at approximately 06:00 GMT at his home in Wiltshire - on suspicion of misconduct in public office.
In a statement, it said the man, who worked in the Met's Territorial Policing command, was arrested following the release of information by News Corporation's Management and Standards Committee (NCMSC).
The arrest related to the suspected release of confidential information, it added.
The NCMSC was set up by the media giant in the wake of the phone-hacking scandal at its now-defunct News of the World title.
Mr Rowell is understood to be the 61st person arrested as part of Operation Elveden.
Of those people arrested as part of the inquiry, nine have been charged and four have been told they will face no further action.
Operation Elveden is running alongside Operation Weeting, the Met Police inquiry into alleged phone hacking, and Operation Tuleta, which is an investigation into computer hacking and other privacy breaches.
Its remit to date has been into allegations of inappropriate payments to police and public officials. Thursday's arrest, however, relates to the suspected release of confidential information but not alleged payment.