Newspaper review: Horsemeat scandal fallout goes on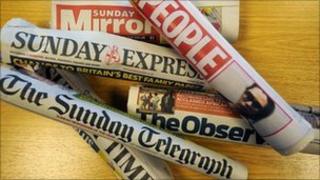 The fallout from the horsemeat scandal, in which such meat was found in products supposedly containing beef, is analysed in Sunday's papers.
Food critic Jay Rayner, writing in the Observer, says the scandal shows how supermarkets have failed to react to vast changes in the global food market.
John Prescott, in the Sunday Mirror, points to the dominance of supermarkets and their relentless obsession to drive down the cost of goods.
Meanwhile, the Star urges its readers to buy their meat from local butchers.
Ex-NHS executive Gary Walker, who shared concerns over patient safety in a radio interview and was threatened with legal action for breaking a gagging order, generates many column inches.
The Sunday Mirror says his treatment shocked the nation.
For the Sunday Times, it speaks volumes about the way the modern NHS works.
Ministers are right to insist that staff must be assured they can speak freely if they sense something is wrong, says the Sunday Telegraph.
Chancellor George Osborne's "broken promise on schools" is the front page story in the Independent on Sunday.
The paper says confidential Whitehall papers prove a "real terms cut" in classroom funding.
The Sun carries a two-page story on athlete Oscar Pistorius, who has been charged with the murder of his girlfriend, Reeva Steenkamp.
The paper reports that he tried to save her with the kiss of life after she was shot.
It also reports that on Saturday evening millions of South Africans watched a newly aired TV reality show featuring Ms Steenkamp.
Iceland could become the first democracy in the Western world to try to ban online pornography after a national consultation found widespread support for such a move, reports the Observer.
Web filters, blocked addresses and making it a crime to use Icelandic credit cards to access pay-per-view pornography are being considered.
The birth of a baby boy for Hugh Grant is reported in the Mail on Sunday.
It recounts how he tweeted news that his second child had been born.
"Am thrilled my daughter now has a brother. Adore them both to an uncool degree. They have a fab mum," the actor wrote.