Tenerife beheading accused awaits verdict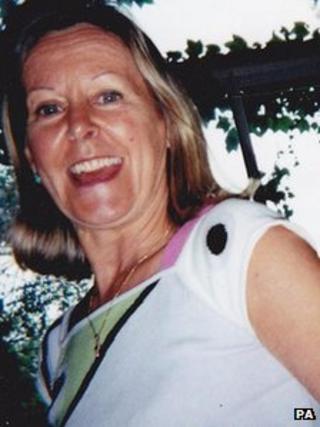 A jury has retired to consider its verdict in the case of a man accused of decapitating a 60-year-old grandmother in a Tenerife supermarket.
Deyan Deyanov, 29, who has a mental health condition, denies murdering Jennifer Mills-Westley in 2011.
The prosecution is seeking a sentence of 20 years in a psychiatric unit, if the jury finds Deyanov guilty.
Ms Mills-Westley, an ex-road safety officer from Norwich, had retired to live on the Spanish island.
The provincial court in the island capital Santa Cruz heard that she was repeatedly stabbed and then beheaded at a shop near the beach in the Canary Islands resort of Los Cristianos.
'Sick man'
During his trial, Deyanov said he did not recognise himself in "tough" CCTV footage of the attack and had no recollection of ever living on the island.
The Bulgarian, who was homeless and could not remember living on the Canary Islands, has been diagnosed with acute paranoid schizophrenia and, when arrested, admitted he had used crack cocaine and LSD.
On the first day of the trial, Mr Deyanov said "voices" had told him he was "an angel of Jesus Christ who is going to create a new Jerusalem".
Francisco Beltran, for the defence, asked for an acquittal after stressing to the nine jurors that his client must be seen as a "sick man".
He said that if they did find Deyanov guilty, they should sentence him to 15 years in a psychiatric unit.
Earlier this week a British couple broke down in tears as they recalled what they had witnessed of the attack.
Kenneth and Susan Bennison, from Warrington, said the man who attacked Ms Mills-Westley "looked unclean, wild and... did not look human".
Giving evidence to the court via a UK videolink, Mrs Bennison said she became aware of the attack after hearing a "very strange noise".
She said she saw a man kneeling on the ground, repeatedly stabbing a woman, who the couple had seen walking around the shop.
Mr Bennison said: "We heard her gasp for breath. He withdrew the knife out of her neck and then put it back in again."
He added that the attacker looked calm during the attack, and he and his wife fled the store while the attack was still ongoing.
"I wanted to help but when he pulled the knife out of her neck I realised there was nothing I could do for her," Mr Bennison said.
Yiping Chen, who was working in the store at the time, told the court Mr Deyanov approached her twice after the attack saying: "I have cut off the head of a crazy girl."