Pope resignation: London mass for Benedict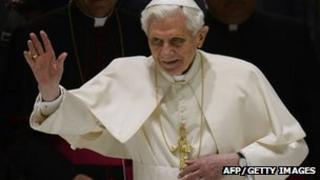 Prayers will be said for Pope Benedict during a mass at Westminster Cathedral, as the pontiff prepares to step down.
Archbishop Vincent Nichols, the leader of the Roman Catholic Church in England and Wales, will thank the Pope for his work and say he is standing down with "astonishing courage and humility".
Pope Benedict XVI's shock resignation - the first by a pope in nearly 600 years - takes effect on Thursday.
More than 100,000 people are expected at his final Sunday blessing in Rome.
Archbishop Nichols will say during his homily: "Today, at this mass, we pray especially for Pope Benedict XVI as he prepares to step down from the chair of St Peter with astonishing courage and humility.
"He has constantly reminded us that our personal relationship with the Lord lies at the heart of our life of faith and that this relationship is lived and fashioned within the community of the Church.
"Indeed the very first words he spoke, on his election as the Supreme Pontiff, expressed his trust in the Lord and his willingness to serve in the Church. On the balcony of St Peter's Basilica, on 19 April 2005, he said that he came 'as a humble servant in the vineyard of the Lord'.
"Today, as we thank God for the years of service given by Pope Benedict so tirelessly and at such cost, we recognise that he has remained true to those words."
'Affectionate recognition'
Archbishop Nichols will also reflect on the Pope's 2010 visit to the UK.
"His simple presence, together with the brilliance and clarity of his words, won over so many people, especially his distinguished audience of politicians and civic leaders gathered in Westminster Hall.
"As he walked the length of that great hall... the applause never wavered, for seven or eight minutes, such was the affectionate recognition given to him," he will say.
The mass is due to begin at 10:30 GMT.
Later on Sunday, thousands of people are are expected to gather in St Peter's Square in Rome for Pope Benedict's final Sunday blessing before he stands down.
Church officials want a successor to be in place before the start of Holy Week on 24 March, the most important event in the Christian calendar.