What lies behind murderous Turkish gang feud?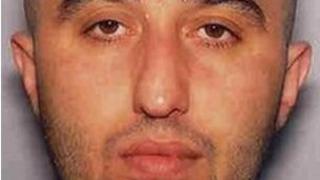 Three men have been sentenced for their part in the shooting of the leader of a Turkish gang in London. The bloody battle between two Turkish gangs has seen five murders in four years and numerous shootings. What lies behind the feud?
In the spring of 2009 a festering feud between the gangs suddenly escalated, resulting in a series of shootings, stabbings and arson attacks in north London.
The vendetta has led to more than 30 incidents, including five deaths.
On 1 February 2012 the head of one of the families involved, Ali Armagan, 32, was shot dead as he sat in his custom-built Audi A8 limousine outside Turnpike Lane underground station.
Earlier this year two men - Younis Sagir, 23, and Ozan Toprak, 28 - were acquitted of conspiring to murder Mr Armagan.
The trial at the Old Bailey heard he had been spotted by chance by someone who was associated with his rivals and within 30 minutes a car containing two men, both wearing balaclavas, had arrived at the scene.
At 15:29 GMT one of the men walked up to Mr Armagan's car and fired six shots.
Charges of conspiracy to murder were dropped against Suleyman Tonbul, 54; his son Hasan, 25, both from Edmonton; and Mehmet Senel, 23, from Tottenham, but they admitted conspiracy to cause grievous bodily harm.
On Friday Suleyman Tonbul was jailed for eight years, his son was given 11 years and Senel was locked up for 10 years.
A jury at their Old Bailey trial heard they spotted Mr Armagan in Turnpike Lane and tipped off gang leader Kemal Eren of his whereabouts.
'No Fingers'
The trial heard Mr Armagan and his brother Kemal had been leading lights in the Hackney Turks gang, who are often known as the Bombacilar (The Bombers, in Turkish).
The court was told their arch-rivals were the Tottenham Turks, led by Kemal Eren.
On 1 December 2012, Mr Eren, who is nicknamed Parmaksiz, which means "No Fingers" in Turkish as he has several missing fingers, was shot and seriously injured in the town of Elbistan, in south-east Turkey.
He later discharged himself from hospital and is believed to have been paralysed.
Prosecutor Ed Brown QC told the jury: "Kemal Eren is wanted in connection with this killing. Had he not fled the country, he would have been arrested."
Investigating officer Det Ch Insp Kenny McDonald told the BBC Mr Eren, as a Turkish citizen, was almost impossible to extradite, but a Home Office spokesman said: "Britain does have extradition relations with Turkey.
"While we cannot comment on individual cases, extradition can still take place on a case-to-case basis."
'Neglected their children'
Many members of the Tottenham Turks - or Tottenham Boys - and Hackney Turks are Kurdish or Alevis, a distinct religious group.
Elbistan is a town with sizeable Kurdish and Alevi communities.
The head of the Alevi Cultural Centre in Dalston, east London, Israfil Erbil, told the BBC: "Turkish people who immigrated into the UK in the 1980s have neglected their children while they were struggling to survive in this new country.
"This neglect created a lack of identity within the second generation. This lack of belonging was fulfilled by gangs. The youths who take part in these gangs want to feel they belong somewhere.
"Do we need an innocent white person to be killed before this is stopped? Now is the time. Enough is enough."
Det Ch Insp McDonald said: "It's difficult to stop because if someone wants to seek revenge, they will do it and, as the Armagan case shows, it only takes a few minutes for them to succeed."
He said the gangs run criminal enterprises and there was no doubt in his mind that they would have been involved with drugs, racketeering and blackmail.
'Going to kill each other'
In April Zafer Eren, 34, who had links with the Tottenham Boys gang, was shot dead in Southgate, north London.
Mr Erbil said the shooting had left the community scared.
"If these gang groups are left on their own, if the police and community don't do enough, you don't have to be a fortune-teller to see they're going to kill each other," he added.
David Lammy, MP for Tottenham, said: "In 2009 I called for there to be investment specifically in tackling the blight of Turkish gangs and the need to recruit more Turkish speaking officers. From what I hear locally, this hasn't taken place and it now urgently needs to."
He added: "It is unacceptable that a handful of thugs are being allowed to damage the name of London's Turkish speaking community and it is even more unacceptable that the law-abiding majority are being left to live in fear of what will become of them and their children."
Det Ch Insp McDonald told the BBC: "The Turkish community are vastly law-abiding and bring a great deal to the capital, and these individuals are not a true reflection of the community at large. They are just criminals.
"I would urge those involved to stop this mindless violence which is not achieving anything and is just hurting people, including their families. Just stop it.
"Operation Trident have ways of helping people out of criminal gang networks, but if they continue with their criminal lifestyle we will catch up with them."
In July 2014 another man, Omer Murat, 27, was acquitted of Armagan's murder. Kemal Eren remains a fugitive.