Great Train Robber Bruce Reynolds dies aged 81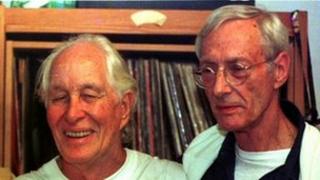 Bruce Reynolds, who was the key planner behind the £2.6m Great Train Robbery in 1963, has died aged 81.
Reynolds evaded capture for five years, mainly spent overseas, but after returning to England was caught in 1968. He spent 10 years in jail.
The 15 men's haul from a mail train in Cheddington, Buckinghamshire, was a record at that time.
Train driver Jack Mills was struck over the head during the robbery and never worked again. He died in 1970.
The £2.6m haul from the Glasgow-to-London overnight mail train, which the gang brought to a stop by changing a signal to red on 8 August 1963, is equivalent to £40m in today's money.
Reynolds had used inside information on mail movements to plan the raid and 15 gang members, wearing helmets and ski masks, ran on board and made off with 120 bags of money.
Reynolds' son Nick said his father had died in his sleep in the early hours of Thursday.
"He hadn't been well for a few days and I was looking after him," he said.
"I really can't talk at the moment. I can confirm that he has passed away and he died in his sleep."
Film consultant
Family friend John Schoonraad said Reynolds had had a "chest complaint".
He described Reynolds as a "lovely chap", and a changed man who no longer believed in crime.
"He said to me 'crime doesn't pay'. He's done his time, and he turned into a very nice man. I've always known him to be a real gentleman," said Mr Schoonraad.
Michael Biggs, the son of Reynolds's fellow Great Train Robber Ronnie Biggs, paid tribute to "a very intelligent man, educated and very loyal to his friends".
"Regardless of whatever mistakes Bruce made in his life, Bruce was a very, very kind person who was a true gentlemen who made many friends in his life," he told BBC Radio 5 live.
Mr Biggs, 38, said his father "showed a lot of emotion" and "there were tears" when he learned of Reynolds' death.
"Bruce was his oldest friend, a very dear friend," he said.
Following Reynolds' release from prison in 1978, life proved a struggle and he was jailed again in the 1980s for three years for dealing amphetamines.
In the late 80s he worked briefly as a consultant on a film about the robbery, Buster, and went on to publish The Autobiography of a Thief in 1995.
Borstal
By then, he was living on income support in a south London flat supplied by a charitable trust.
Reynolds, the son of a trade union official at the Ford plant in Dagenham, east London, left school at 14 and worked as an accounts clerk, hospital laboratory assistant and cycle fitter.
It was not long before he was in trouble with the police and he was sent to borstal twice for theft.
After his national service in the Army, he returned to a life of crime and served four jail terms, mainly for breaking into shops.
In 1963, he joined forces with Biggs, Buster Edwards, Charlie Wilson and other gang members to carry out the Great Train Robbery.