Are there places more British than the UK?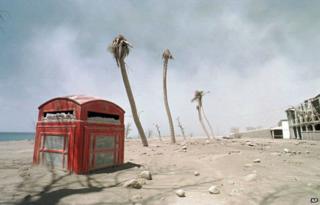 Falkland islanders are about to vote in a referendum on whether to stay British, with a resounding yes expected. But are there far flung territories that feel more British than the UK?
There are bright red pillar-boxes, old-fashioned red telephone boxes and union jacks.
There are British pubs, fish and chip shops and cream teas.
They may be more than 6,000 miles away from the UK, but the Falkland Islands look rather British to many visitors.
On 10-11 March, islanders will be asked if they want to remain an Overseas Territory of the UK. Argentina, which claims the islands, has condemned the vote.
It's a bit of a cliche that the Falkland Islands are "more British than Britain", but how British do residents of the archipelago actually feel?
When it comes to how islanders describe themselves, Teslyn Barkman, a 25-year-old journalist at the island's newspaper Penguin News, says the older generation who lived through the war are more likely to say they are British. Many would feel it was disrespectful not to, she says.
But the sixth generation Falkland Islander, who has also lived in the UK, says most people "feel Falkland Islander first, and British second - in the same way the Scottish feel Scottish before British, and people from Cornwall might say they are Cornish before English or British".
Falkland Islanders have a complicated identity, according to Barkman. While landmarks and television might be predominantly British, the culture is different, she says.
"People are more outdoorsy. They spend time fishing, driving around camp [Falklands term for rural areas] in off-roaders, clay pigeon shooting. We have lots of sports events which are like mini festivals. Sheep shearing is common, and horseback riding is Western style - I'd say it's more like a slice of old-fashioned cowboy America than anything else," she says.
Barkman says some of the island's architecture - corrugated tin roofs and brightly coloured fences - is also not very British. There is only one cinema, which is about 40 miles out of town.
And although English is the official language, it is peppered with expressions derived from sheep farming links with New Zealand, Australia, South America and Scotland, while some rural areas and horse gear items are disjointed Spanish, she says.
The Falkland Islands are not the only far-off territory to still feel British.
The 4,200 people who live on the tiny south Atlantic island of St Helena, which is one of the most isolated settlements on the planet, have a very strong sense of Britishness, says Tara Thomas, who was the island's youngest councillor.
"Jamestown is like a small village in 1950s Britain, with Georgian buildings with high ceilings. There's a place called Scotland, which is very cold. We have roasts on Sundays, cricket and football are big sports.
"Until recently, Royal Family pictures were on many walls. There was a pageant for the Diamond Jubilee, so the affiliation with the Queen as the head of the country is still very much alive," she says.
British or Irish-sounding surnames, such as Thomas, Herne, O'Connor, Stevens and Harris, are widespread, and pubs have names such as the Standard and the White Horse.
St Helena also has a history of financial dependence on the UK, with the British government recently agreeing to invest £250m in the island's first airport. The only way on and off the island is a dedicated Royal Mail ship.
Thomas says being British is important to most St Helenians as it gives them a sense of who they are and where they have come from.
But she says not everything is British. The St Helena accent is closer to New Zealand's English than the UK's. And the weather is sub-tropical.
Gibraltar, which Spain has long claimed sovereignty over, is another place where you might hear the phrase "more British than Britain".
There are shops from British chains. British pubs. Red telephone boxes.
There are bobbies on the beat, the judiciary is based on the English system, and it is home to a British military garrison and naval base.
TV chef Pepe Palmero says Gibraltarians have a motto "we're OK with the UK" and have repeatedly voiced this in referendums.
"In the first referendum in 1967, only 44 voted to become Spanish. In 2002, about 150 people voted for shared sovereignty. So it's taken 40 years to get another 100 votes.
"We feel more British than the British. I don't think it's just because Spain is beside us. If the US was beside us, we wouldn't want to say we were American. We want to be British and nothing else," he says.
Palmero says Gibraltar is also very multicultural like modern Britain.
"My neighbours are Hindu, so at Diwali we put a light on. At Christmas, they put up a Christmas tree," he says.
"Children might go to a Jewish feast with their friends. But we all feel British."
Britishness was arguably at its peak in the 1950s, when there was a very strong MoD presence, and 366 pubs open at any given time, says Dr Jennifer Ballantine-Perera, who works at the Rock's Garrison library.
But she says the notion of Britishness is not static and responds to "historical and geopolitical imperatives" in Gibraltar.
"Britishness is always set in opposition to Spain. It becomes a safeguard - in that so long as we remain British, we won't be Spanish, which in turn makes us feel more British," she says.
Prof Jane Cowen, an expert in social anthropology at Sussex University, says there are many communities where "the sense of self is intensified by sense of difference with others" and it is a common phenomenon.
When nationalism becomes an object of a struggle, people are also forced to think about their identity more than they ordinarily would.
Author and anthropologist Simon Kuper agrees, saying the political context may also explain why places like Gibraltar and the Falkland islands have more symbols of Britishness than many areas in the UK, where ostentatiously displaying union jacks might be seen as old-fashioned or embarrassing.
"If identity is threatened, or questioned, people tend to embrace what they consider to be their identity more.
"Britishness means different things to different people. And if they are in embattled parts of the empire, they might be more inclined to think of Britain in terms of a military country, with a great history capable of defending its interests, which would make Britain more central to their identity," he says.
There may also be something in the adage absence makes the heart grow fonder.
"The further away a place is from its homeland, the easier it is to have a glorified idea of it.
"If you live in London or Birmingham or Hull and have to get to work in the rain and the prime minister has done something silly, you might not feel so romantic about being British."