UK politicians pay tribute to Venezuela's Hugo Chavez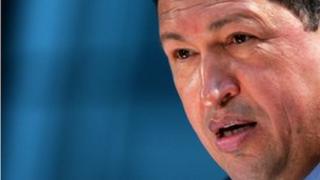 The UK foreign secretary has paid tribute to Venezuelan President Hugo Chavez, who he said left a "lasting impression" on his country.
The socialist leader, 58, died on Tuesday after being seriously ill with cancer, ending his 14-year rule.
His death was announced by Vice-President Nicolas Maduro, who said the leader had died "after battling a tough illness for nearly two years".
William Hague said he was "saddened" to hear of his death.
He added: "As President of Venezuela for 14 years he has left a lasting impression on the country and more widely.
"I would like to offer my condolences to his family and to the Venezuelan people at this time."
'Radical society'
Respect MP George Galloway, who spent two weeks in Venezuela in the run-up to Mr Chavez's last re-election in October, said millions of Venezuelans and "many, many millions of Latin Americans, as well as people farther afield, will feel that they lost their champion, they lost their Spartacus - a warrior".
Chavez was a man "ready to battle any and all in order to redistribute wealth and to stand with the oppressed and against the oppressors," he told BBC Radio 5 live.
Sinn Fein's Gerry Adams also remembered Mr Chavez, who he said had worked tirelessly to improve the lives of Venezuelan citizens.
"He dedicated himself to building a new and radical society in Venezuela," he said.
"His progressive social and economic changes took millions out of poverty. He extended free health care and education for all citizens and his re-election last year with a huge majority was testimony to his vision."
'International movement'
Mr Chavez visited the UK on a number of occasions, meeting the Queen and the then prime minister Tony Blair in 2001, and former mayor of London Ken Livingstone in 2006.
Mr Livingstone told the BBC that Mr Chavez "saw himself as part of an international movement to change the way things are" and had rebuffed US attempts to interfere in his country and the wider region.
"The simple fact is the reason the US hated Chavez was that for the first time you had a Latin American leader who puts the interests of the people of Venezuela ahead of America, particularly when he increased the tax on the oil companies," he told BBC Radio 4's Today programme.
"That allowed him to provide free healthcare and free education."
Asked about criticism of Mr Chavez's human rights record, Mr Livingstone said he was not aware of the details of specific allegations but the former leader had himself survived a number of attempted assassinations and coups and won elections with the support of the majority of the people.
The British ambassador to Venezuela, Catherine Nettleton, also offered her condolences on behalf of the UK.
She said she had met Mr Chavez on two occasions and he had "warmly remembered" his visits to the UK.
"President Chavez was passionate about his country and his passing will be widely felt in Venezuela. We will continue to work with the Venezuelan government to build our co-operation in areas of mutual interest."