Millions stop work to be carers, survey indicates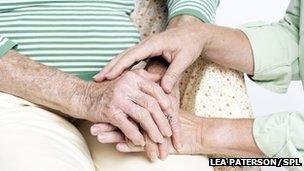 More than two million people in the UK have left jobs to care for disabled, sick or elderly loved ones, a survey by Carers UK suggests.
Of those in the online poll, 22% said they had seen their work affected by caring responsibilities.
The survey of 2,073 adults found 4% said they had given up work and 6% had cut their hours to care for an elderly, ill or disabled relative.
The charity is calling for more support for people to juggle caring and work.
The survey suggested the hardest hit were 45 to 54-year-olds, with more than one in four, or 27%, reporting caring had taken a toll on their work.
Helena Herklots, Carers UK chief executive, said employers could play a critical role in shifting how society supported people with caring responsibilities.
She said: "But support from employers can only go so far, and families need to be able to access reliable, good quality and affordable care and support services to enable them to juggle work and care.
"Without urgent action from government to ensure families can access this support, millions more will see their careers and earnings suffer - with long-term personal costs to families and significant costs to business and the UK economy."
Employers for Carers, which helps businesses support staff with caring responsibilities, said such assistance made good business sense.
Chairman Ian Peters, who is managing director of British Gas residential energy, said: "Supporting carers in our workforces is not just about being a good employer; it is good for business - improving productivity and reducing workplace stress, reducing staff turnover and recruitment costs, and enabling us to retain the talent and experience of staff who we would otherwise lose.
"However, these findings highlight that much more needs to be done to make supporting colleagues who juggle work and care part of normal workplace practice, and ensure that families can access the advice, support and services they need to enable them to combine work and home life."
The survey comes after the 2011 Census in England and Wales showed one in 10 residents, a total of 5.8 million people, devotes at least part of their week to caring for disabled, sick or elderly relatives and loved ones without any expectation of payment.
This is an 11% rise on the 5.2 million unpaid carers recorded in the 2001 census.
Related Internet Links
The BBC is not responsible for the content of external sites.