Papers report processed meat warning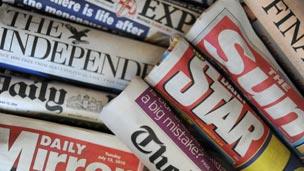 Several papers point to new research warning of the health risks of eating too much processed meat.
The paper cites a dietitian with the Meat Advisory Panel who advises that "this study should not put you off the odd bacon sandwich".
It quotes a prediction from National Trust chairman Simon Jenkins that the new presumption in favour of sustainable development will "just mean that everyone will be fighting, fighting, fighting and that is not the best way of running rural Britain".
But is is conflict of a different sort that is vexing the Times. It claims that there is a plot afoot by former cabinet minister Liam Fox and one-time leadership contender David Davis to destabilise the coalition by calling for a vote on an EU referendum before the next election - something the Lib Dems would not agree to.
It describes a recent dinner of the Tory "No Turning Back Group" which it says was marked by a palpable sense of discontent at the direction of government policy... and claims that the Justice Secretary, Chris Grayling, had to ride to the prime minister's rescue, urging his fellow diners to "calm down".
It is not just the Tories who have trouble in their ranks, according to the Daily Mirror. Last week's defeat in Eastleigh shows that parts of the Labour party are "stagnating" according to the shadow defence secretary and "laziness" could lose it the next election.
Complacency is the enemy of progress says Jim Murphy, adding "If you don't knock on people's doors... you deserve what you get".
It says Mr Miliband's "efforts to distance himself from Gordon Brown's errors are hampered by the fact that he was part of the government that got it so wrong". It has a message for all politicians: "just get it right and you'll never have to say sorry".
"We have become a nation of Victor Meldrews" bemoaning in surveys that things just aren't how they used to be, says the paper.
Related Internet Links
The BBC is not responsible for the content of external sites.