Horsemeat scandal: Minister urged to reveal Sodexo supplier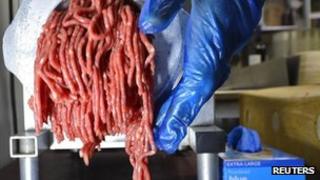 The government has been urged to name a meat producer involved in supplying food containing horsemeat to schools and the armed forces.
French caterer Sodexo withdrew all frozen beef products from its UK operations last month, after some tested positive for horse DNA.
Labour's Mary Creagh said ministers should reveal Sodexo's supplier so UK companies could check their stock.
But the government said its disclosure could hamper investigations.
'Supplies at risk'
Speaking in the House of Commons, shadow environment secretary Ms Creagh said: "On 22 February, Sodexo announced it had found horse meat in a beef product and withdrew meat from schools in Gloucestershire, Southampton and Leicestershire, and the armed forces.
"Sodexo has refused publicly to name the products, the level of horse adulteration or the meat company which supplied it - thereby preventing other organisations from knowing whether their supplies are at risk."
Addressing Environment Secretary Owen Paterson directly, Ms Creagh insisted the government knew the identity of the meat supplier.
"Will you now name that company so the rest of the public sector can check their supplies?" she asked, adding Mr Paterson had a "duty" to reveal what he knew.
However, Mr Paterson insisted he had "discussed this issue yesterday with the chief executive of the Food Standards Agency (FSA), who is completely satisfied that the information required from Sodexo has been supplied".
"There is an investigation going on and in some of these cases it might lead to criminal prosecution," he told MPs.
Mr Paterson added the FSA had to be "guarded" about what information it released - "in case the investigations are impinged upon".
"This is a criminal conspiracy which covers 23 countries and it does not help the police to arrive at prosecutions if information is revealed," he said.
Tests expanded
On Wednesday, the FSA said members of the public were to be asked if they find low levels - or "trace contamination" - of horse and other species in beef products acceptable.
It comes after more than 6,000 tests for horse DNA were carried out in six weeks.
Tests for horsemeat in processed meat products have now been expanded to look at foodstuffs labelled as containing beef as a major ingredient.